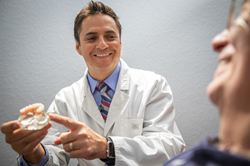 A confident smile lets your personality shine through, and lets the fun in your life shine through.
CAPE CORAL, Fla. (PRWEB) May 31, 2019
Dr. Mauricio Martinez, general dentist in Cape Coral, FL, welcomes new patients for transformative full arch dental implants. Due to the devastating effects that losing an entire arch of teeth has on individuals, Dr. Martinez offers life-changing full arch dental implants at his state-of-the-art practice to improve patients' oral health, general wellness, diet, and confidence.
According to the American College of Prosthodontists, 36 million Americans suffer from full arch tooth loss. While dentures are a common solution for this loss, they can present problems over time such as bone deterioration, gum irritation, and a need for frequent and costly adjustments. Dr. Martinez' full arch dental implant solution serves as a permanent, comfortable alternative to traditional dentures.
Dr. Martinez begins every dental implant treatment with a personalized consultation to discuss patient smile goals, evaluate patient oral health, and determine the most ideal dental implant options for the patient. Throughout the consultation, Dr. Martinez and his team work closely with the patient to assure maximum comfort, including the evaluation of the patient's level of anxiety and possible need for sedation. Dr. Martinez also takes time in each of his consultations to answer every question and confirm the patient is comfortable and ready to proceed.
The next step in the process is planning the precise location each dental implant will be placed in the bone using cone beam CT imaging. Dr. Martinez then conducts any tooth extractions or bone grafting necessary to prepare for the procedure. Finally, using his refined skill and over 15 years of experience, Dr. Martinez places the implants within the jaw in a way that promotes quick healing, jawbone density preservation, and the reliability of long-lasting dental implants.
Patients who receive dental implants from Dr. Martinez report ease with every day activities such as biting, chewing, speaking, and smiling. This relief allows for patients to improve their confidence, diet, oral function and overall health.
Rich, one of Dr. Martinez' full arch dental implants patients received a lower arch of new teeth. Reflecting on the life-changing results of his care he says, "A confident smile lets your personality shine through, and lets the fun in your life shine through."
Patients with missing teeth who are looking for a trusted dentist in Cape Coral, FL can connect with Dr. Martinez for a full arch dental implant consultation by calling 239-266-2789 or visiting http://www.gulfcoastsmiles.com. Other services provided by Dr. Martinez include general dentistry, treatment of gum disease, and cosmetic dentistry.
About the Dentist
Gulf Coast Smiles offers comprehensive dental care to patients in Cape Coral, FL and surrounding areas. Passionately practicing dentistry for over 15 years, Dr. Mauricio Martinez strives to provide his patients with caring and custom treatments while implementing the latest technology and innovative techniques whenever possible. Dr. Martinez is a Diplomate of the American Dental Implant Association and has achieved Fellow status with the American Academy of Implant Dentistry. Gulf Coast Smiles conveniently offers numerous general, cosmetic and implant dentistry treatments to help patients reach the healthy and beautiful smiles they need. To learn more about Dr. Martinez, his team or the services offered at Gulf Coast Smiles visit http://www.gulfcoastsmiles.com or call 239-266-2789 to schedule a consultation.