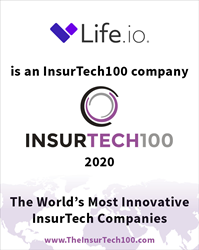 PRINCETON, N.J. (PRWEB) November 10, 2020
Life.io, a leading customer engagement technology firm and independent subsidiary of SE2, was recognized by FinTech Global as an InsurTech100 Company for 2020. InsurTech100 is an annual list of 100 of the world's most innovative InsurTech companies selected from thousands by a panel of industry experts and analysts. The top 100 are chosen based on how insurers are using their technology to solve major industry problems through cost cutting or improving efficiencies across the value chain.
Jon Cooper, Co-Founder and CEO of Life.io notes, "We are thrilled to be named an InsurTech100 company for 2020. The need to communicate with customers today is more important than ever and it's no exception in the insurance industry. Insurers are fast tracking their digital transformation strategies and Life.io helps them scale quickly and efficiently."
Life.io's enterprise solution suite includes Life.ioGrow™, Life.ioEngage™ and Life.ioEmpower™. Grow, which is garnering attention from many carriers, offers an integrated quote, needs analysis, e-app and advisor dashboard. Its state-of-the-art user experience helps improve funnel metrics and reduce friction for clients and advisors. Powered by SE2 Aurum®, Empower provides policyholders a unified digital self-service experience across any policy admin system. Life.io's flagship product, Engage, a digital customer engagement platform, helps companies educate, engage and reward their customers at every stage of the customer journey.
Life.io's solution suite integrates powerful engagement across the client lifecycle to reduce friction, convert sales, and optimize results. To learn more about Life.io's capabilities please visit https://life.io
About Life.io:
Life.io is a leading customer engagement technology firm that helps companies accelerate the development of their end-to-end digital client experience with the Life.io solution suite. Our state-of-the-art digital suite integrates powerful engagement across the client lifecycle to reduce friction, convert sales, and optimize results. A pioneering insurtech for over five years, Life.io is led by its original co-founders and headquartered in Princeton, NJ. Life.io is a subsidiary of SE2, an Eldridge business. To learn more, please visit https://life.io