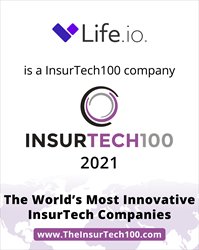 PRINCETON, N.J. (PRWEB) October 28, 2021
Life.io, a leading customer engagement technology firm was hailed by FinTech Global as an InsurTech100 Company for 2021. The prestigious ranking recognizes the world's most innovative technology solution providers that address the digital transformation challenges in insurance. The process to identify this year's 100 InsurTech innovation leaders was more competitive than ever. A panel of analysts and industry experts voted from a longlist of over 1,400 companies. The finalists were recognized for their innovative use of technology in solving a significant industry problem or generating efficiency improvements across the insurance value chain.
Muriel Petri, President and CMO of Life.io said, "We are excited to once again be named an Insutech100 Company by Fintech Global. Over the last few years, carriers have embraced new technology and technology partners to keep up with the pace of change. By partnering with Life.io, carriers can meet the needs of their customers quickly and for a fraction of the price of building digital customer solutions on their own."
Life.io drives to create the most person-centered, data-rich customer experience platform that helps carriers maximize lifetime customer value. The Life.io enterprise solution suite: Life.ioGrow™, Life.ioEngage™, Life.ioEmpower™, and Life.ioInsights™ integrates powerful customer engagement across the customer lifecycle to reduce friction, convert sales and foster loyalty.
Life.io's flagship solution Life.ioEngage provides a digital customer engagement solution that encourages and rewards customers for improving their holistic well-being. Engage leverages the latest positive psychology, behavioral science and gamification to create a highly appealing user experience that repeatedly draws new and prospective customers back to the platform. These interactions help improve key metrics that improve sales, persistency and NPS. To learn more about Life.io's solution suite, please visit https://life.io
About:
Life.io is a leading customer engagement technology firm that helps companies accelerate the development of their end-to-end digital customer experience with the Life.io Solution Suite: Grow, Engage, Empower and Insights. This state-of-the-art digital suite integrates powerful engagement across the client lifecycle to reduce friction, convert sales and optimize results. A pioneering insurtech, Life.io is headquartered in Princeton, New Jersey. Life.io is a subsidiary of SE2, an Eldridge business. To learn more, please visit https://life.io