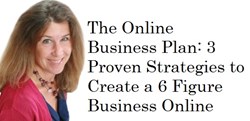 The very thing that is preventing most service based entrepreneurs from consistent revenue and a flood of clients are not applying the right strategy, not being visible on the web and not know
Providence, RI (PRWEB) August 27, 2013
"The Online Business Plan: 3 Proven Strategies to Create a 6 Figure Coaching or Service Based Business Online" will teach coaches, consultants and service-based entrepreneurs how to maximize the internet, grow their list, and make a big impact while making real money.
Spiro says her secret weapons are Strategy, Size and Systems and has seen that most entrepreneurs who are not yet making money are not applying the right strategy, are not visible on the web and don't know how to monetize a system. This class will focus on these three elements.
During the class, Spiro will give away prizes including two mini-strategy intensives (a 60-minute business consultation) and two gift cards. (Participants must be live on the call to receive one of the prizes).
Spiro's mission is to help women entrepreneurs (and entrepreneurs-in-process) rapidly grow their business online. She has a particular passion for teaching career women how to us the internet to attract clients and generate revenue so they can transition out of their 9-5 job. Find out more information about this training.
For details or more information, contact Jeannie Spiro at 401-862-6874 or jeannie(at)jeanniespiro(dot)com.