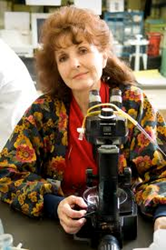 "The enormous attention being given to legalizing marijuana for open use is of grave concern to me." - Dr. Lani Burkman, LifeCell Dx
Buffalo, New York (PRWEB) June 10, 2014
LifeCell Dx's founder, Chief Science Officer and Andrologist, Dr. Lani Burkman warns that the use of marijuana can impact fertility – the ability to produce a baby. Dr. Burkman is an internationally recognized expert on human fertilization and marijuana, with more than 25 years of clinical research.
"Our body naturally makes two kinds of cannabinoid chemicals that look like the marijuana ones. By using marijuana, the man or woman is putting the natural cannabinoid regulation out of balance, which can impact sperm and eggs, and many critical parts of one's physiology. The increased use of marijuana in the United States is a contributing factor to the rise of infertility. Up to 7 million couples are struggling to create a family, and pointing the finger at each other saying, 'Is it you or is it me?' The enormous attention being given to legalizing marijuana for open use is of grave concern to me," stated Dr. Burkman of LifeCell Dx.
LifeCell Dx is an e-fertility diagnostics laboratory in which patients can see the swimming sperm for themselves and be introduced to the answers that Burkman's Advanced Semen Analysis will provide. The basic semen analysis available at most labs and infertility clinics is focused on sperm count and percent moving, but this cannot predict his actual fertility.
Advanced Semen Analysis gives the sperm count, but also quickly reveals whether his sperm are functioning like fertile sperm. Marijuana-exposed sperm typically function differently. Respecting all confidentiality, every patient is asked about his/her marijuana use, among other critical fertility-related questions.
"Couples deserve accurate information about sperm function since blind decision-making is very stressful on the relationship and personal finances. It is critical for patients to understand that endocannabinoids are responsible for helping certain processes run normally, or even block other systemic activities. The best-known endocannabinoids are called AEA (anandamide) and 2-AG (2-arachidonoylglycerol), but there are others as well. 'Endo' means inside our body; using external marijuana chemicals that mimic our natural "regulators" can produce effects almost anywhere in the body, whether on sperm, eggs, testis, uterus, heart, or central nervous system, etc." Dr. Burkman emphasized.
Data from the National Institute on Drug Abuse indicate that marijuana is the most common illicit drug used in the United States (http://www.drugabuse.gov). After a period of decline in the last decade, its use has been increasing among young people since 2007.
"The risks are before, during and after, and couples deserve to have the truth, not the hype complicated by issues around de-criminalization. Even if they quit marijuana use, cannabinoids remain in the body for many months. Whether young and somewhat older, they need to hear that marijuana use changes sperm swimming patterns, attachment to the living egg, semen volume, total number of sperm in the sample, and cannabinoid levels found in the female's reproductive organs. We are very good at predicting his fertilizing potential, as shown in our recent data presented at the national fertility meeting, American Society for Reproductive Medicine. Our Advanced Semen Analysis represents 20 years of clinical work with thousands of sperm tests. Couples should also know that we can serve patients living anywhere in the world through LifeCell Dx's patented remote digital analysis process: the doctor sends sperm through the Internet to our central lab in Buffalo," Dr. Burkman added.
The World Health Organization in Geneva brought some clarity when it defined infertility as an actual disease. According to the U.S. 2002 National Survey of Family Growth by the CDC, infertility affects about 12 percent of the reproductive-age population. In the United States, this includes 7.3 million women and their partners.
"We are here to help couples by giving them scientifically-sound information about their infertility and answers for the male through Advanced Semen Analysis at LifeCell Dx," stated Dr. Burkman.
LifeCell Dx is located in Buffalo, New York. More information is available at http://www.lifecelldx.com. Dr. Lani Burkman may be reached at (716) 408-3306 or lburkman(at)lifecelldx(dot)com.
###
For Interviews
Dr. Lani Burkman
Cell: (716) 553-8353