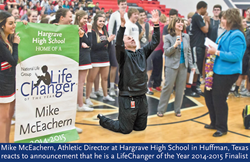 The holidays are a great time to recognize outstanding school employees who make a positive difference in the lives of students. Being nominated for an award and recognized by their community can be a priceless gift with many rewards.
Montpelier, VT (PRWEB) November 11, 2015
LifeChanger of the Year -- a national program that recognizes and rewards K-12 public and private school educators and employees -- announced today the launch of the 2015-16 LifeChanger of the Year Holiday Gift Campaign.
Sponsored by the National Life Group Foundation, LifeChanger of the Year is an annual program that honors K-12 public and private school educators and employees from around the country who are making a difference in the lives of students by exemplifying excellence, positive influence and leadership.
The holiday season is a great time to give thanks to outstanding teachers and school employees who work hard throughout the year to make a positive difference in the lives of students. Being nominated for an award and recognized by their school community for doing what they love can be a priceless gift with many rewards.
"On Christmas Eve, I sat in the quiet of my apartment reading all of the comments parents, students, and teachers left on my nominee profile page," said Susan Turner, a 6th Grade World History Teacher and former LifeChanger of the Year winner from Hollywood, Florida. "The comments are the best gift I have ever received. For me, they are the award."
Nominating an inspirational K-12 school district employee or teacher is easy to do. There is no cost to nominate someone, and anyone—including parents, administrators, school colleagues, students (with approval from an adult), and other members of the community—can nominate any full-time K-12 public or private school employee.
During the Holiday Season new, first-time nominees will receive a holiday gift package which includes a limited edition "2015-2016 LifeChanger of the Year Nominee" travel mug and a holiday card with a personal message from their nominator.
In addition to receiving a holiday gift, LifeChanger of the Year will ensure every nominee knows how much their school community appreciates them by:

Building a unique profile on the website for each nominee to share their story.
Encouraging the nominee's community to comment on the profile to celebrate, congratulate and thank the educator for the life-changing impact they have.
Engaging each nominee's local community by sharing their story with local media and on Facebook and Twitter.
Sending congratulatory posters for display to school administrators, encouraging the school community to celebrate the nomination!
In the spring, the national LifeChanger of the Year selection committee, which is comprised of former winners and other school employees, will review all nominations and choose the 16 winners for the 2015-2016 school year. Each winner will receive a personal cash award and a matching donation for their school. This year's Grand Prize is $10,000. The Top Five winners will be provided with further recognition at a national awards ceremony in Cabo San Lucas, Mexico, in April.
The reigning Grand Prize Winner Mike McEachern, an athletic director, teacher and coach from Hargrave High School in Huffman, Texas, was selected from more than 600 nominees from all 50 states. "Coach Mac" started a program called BAM – (Becoming A Man) – for young men who may not have a male role model in their lives. This program involves students returning to school in the evenings to meet with coaches, volunteer dads and student leaders. Students have dinner and visit with guest speakers to talk about the future, life and success. This program helps motivate and give guidance to these young men.
"When you're an educator – when you're a coach or a teacher - you're that 24/7. You don't go home and take that hat off. When the kids see you around town or they see you out to eat, you're coach or teacher," said Coach Mac. "I want the young men and young ladies of America to do better, to be successful."
To nominate an outstanding teacher or school district employee this holiday season, visit LifeChanger of theYear.com/nominate. The Holiday Gift Campaign ends on January 1, 2016.
# # #