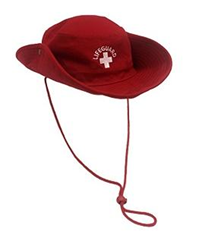 A great look and very visible
Los Angeles, CA (PRWEB) February 10, 2015
The sun can do incredible damage and if a lifeguard is not careful, he can get sunburns and severe skin damage both immediately and over time. When a lifeguard spends hours out in the sun for their shift, lifeguards are constantly exposed to harmful UV rays from the sun, which can become dangerous after just a summer on the beach. Now Lifeguard Master, a popular lifeguard supply company, has released a bucket hat specifically made for lifeguards to help protect those on duty from harmful sun exposure.
The Lifeguard Bucket Hat from Lifeguard Master is a great tool to have available, especially for those extra sunny days. Created from high quality cotton twill, this Lifeguard Bucket Hat is a bold red color with a white embroidered lifeguard logo on the front center. With an adjustable cord and a side snap, this bucket hat has a three-inch brim allowing for the sun and harmful rays to stay off a lifeguard's ears and face.
Featuring a snug fit, the hat fitting along with the adjustable cord makes this hat perfect for even windy days. To view a video testimonial of this hat, please click on: Lifeguard bucket hat video testimonial
Customer, Mike Seltzer, says in a video testimonial, "I ordered this lifeguard hat from Lifeguard Master. I'm going to be the Waterfront Director of Surprise Lake Summer Camp in Cold Spring, New York. I am Red Cross Lifeguard Certified. I am also a Waterfront Safety Instructor and a Lifeguard Trainer. This is the cool hat that I'll be wearing on the docks all summer long."
Because of the durable and quality fabric, combined with excellent craftsmanship, this Lifeguard Bucket Hat is sure to last year after year.
A similar hat featured in the Lifeguard Master line of lifeguard hats is the Fisher Lifeguard Hat. Also created from high quality cotton twill, this lifeguard hat features a white embroidered lifeguard logo in the front center of the hat. An adjustable cord with lock on it makes this hat great to wear on windy days or in windy areas. This lightweight cap comes in one size that fits all and is great to use to protect the lifeguard from the sun.
The popular lifeguard supply company also offers lifeguard visors in their line of hats for those that may want the top of their head uncovered. Perfect for times when a lifeguard wants to protect their face or shade their eyes, this lifeguard visor comes in a bright red color with white embroidered letters to identify the lifeguard easily in the event of an emergency. With an adjustable Velcro strap, this cap is crafted from 100 percent washed cotton twill with a twill sweatband. The lifeguard visor also comes in a navy blue with white letters and a brilliant white background with red embroidered letters.
There is also a white baseball style cap available and a lifeguard straw hat that allow the top of the lifeguard's head to have more circulation for less sweat. With wider brims, these hats also help keep sun off the lifeguard's neck or face.
"I received the straw hat today…Thank you for the great goods and service. Your website has definitely become my number one favorite site to buy rescue products [from]," says customer Frank L. from Norway.
No matter whether a lifeguard is looking to keep the sun and the heat off their eyes, neck, ears, or face; Lifeguard Master has a variety of different hats available for any stylistic and functional preferences. This includes lifeguard bucket hats, visors and regular caps. Lifeguard Master offers a variety of lifeguard apparel, lifeguard and rescue supplies, as well as emergency medical equipment. With fast shipping, quality products, and great customer reviews, it is no wonder why Lifeguard Master continues to be a top lifeguard supply destination worldwide.
Lifeguard Master has been in the emergency and life saving industry for many years. Sammy, the owner and founder of Lifeguard Master, has been a lifeguard himself for seven years. He knows the importance have having all the equipment readily available for a first responder, and through the years, Lifeguard Master has become a robust lifeguard supply and lifeguard store company, accommodating the anticipating needs of first responders around the country and around the world. Lifeguard Master's determination to excellence and rescue safety has quickly made it a leader in its industry. For more information, please give us a call, send us an e-mail or visit our website. Also to stay updated with the latest news in emergency supplies, please visit our forum where rescue professionals from around the country and world stay connect and post the latest emergency news at LifeguardsOnline.com.
Sammy
Lifeguard Master
(714) 605-3090
http://LifeguardMaster.com