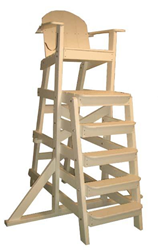 Lifeguard Chairs That Withstand Any Condition
Los Angeles, CA (PRWEB) November 25, 2014
A crowded beach or pool area can make it difficult to properly view patrons of the area. While others around the lifeguard are having a good time, a lifeguard is diligently watching others around them looking for signals or signs of disruption. When a lifeguard is properly stationed at a tower or lifeguard chair, a lifeguard has a better view of the people around them to better protect the public. Lifeguard Master, a popular lifeguard supply company, has recently introduced a new line of lifeguard chairs and towers.
Lifeguard Master's most popular chairs and towers include a 30-inch chair, a 40-inch stand, and a 66-inch tower. Chairs and towers by Lifeguard Master are designed for optimal comfort. With the lifeguard in mind during design, the design and seating structure allow for a more attentive and alert lifeguard. This new line of chairs and towers are also designed to withstand harsh ocean elements. The chairs have no slip steps, making it ideal for lifeguards who are in a hurry and have to go save a life.
The 30-inch lifeguard chair is great for those in an area with less than 10 people swimming at a time. With the chair seat 30 inches from the ground, the chair is high enough for maximum comfort and also to watch others around them. As a maintenance free chair, this chair never peels or chips, keeping it in a like new appearance throughout the years and outdoor elements. The chair also never rusts and never needs painting, allowing lifeguards to watch the public instead of worrying about the chair's safety or condition.
These lifeguard chairs and towers come equipped with an umbrella holder, making it easy for the lifeguard to block herself from the sun's harmful rays and also comes with a hook for ring buoys or accessories. With accessories at the ready, a lifeguard can be prepared for any emergency to happen. Chairs and towers from Lifeguard Master come with major parts already assembled, allowing for only minor assembly to be required.
The 40-inch lifeguard stand is slightly higher up than the 30-inch chair and is best for pools or beaches with 20 people or less swimming at a time. Lifeguard chairs, stands and towers are all made from recycled strong material, making these products environmentally friendly. To view a video on this stand, please click on: The 40 inch Lifeguard Stand
With a total height of 86 inches and the seat 66 inches from the ground, the Lifeguard Tower is a must-have for larger or busy swimming areas such as pools, lakes, or beachfronts. Designed with comfort in mind, the Lifeguard Tower has a 22-inch wide seat so a lifeguard can move slightly while still being in an alert position.
All chairs and towers by Lifeguard Master come with a one-year full warranty meaning Lifeguard Master will either replace the full item or part piece that has malfunctioned. Lifeguard Master takes great pride in the products they sell and the customers they serve.
Lifeguard Master also offers both seat cushions and back cushions for their lifeguard chairs or a matching set. Made of a durable fabric and designed to provide maximum comfort to the lifeguard, these red cushions can help lifeguards who work longer shifts. With chair cushions, lifeguards will be more focused on swimmers and less focused on getting comfortable in a chair.
No matter what size pool, lake, or beachfront a lifeguard is stationed at, a lifeguard chair or tower is a great way for a lifeguard to have a dedicated spot and domain to watch people from. Minimal assembly is required for these three incredibly popular lifeguard chairs and towers with a full one-year warranty. Comfort is incredibly important for a lifeguard since the shift is often stationary and solitary. [Lifeguard chairs or towers are a great way for a lifeguard to be able to view public with accessories at the ready in case of an emergency.
Lifeguard Master has been in the emergency and life saving industry for many years. Sammy, the owner and founder of Lifeguard Master has been a lifeguard himself for 7 years. He knows the importance have having all the equipment readily available for a first responder, and through the years Lifeguard Master has become a robust lifeguard supply and lifeguard store company, accommodating the anticipating needs of first responders around the country and around the world. Lifeguard Masters determination to excellence and rescue safety has quickly made it a leader in its industry. For more information, please give us a call, send us an e-mail or visit our website. Also to stay updated with the latest news in emergency supplies, please visit our forum where rescue professionals from around the country and world stay connect, and post the latest emergency news at LifeguardsOnline.com.
Sammy
Lifeguard Master
(714) 605-3090
http://www.LifeguardMaster.com