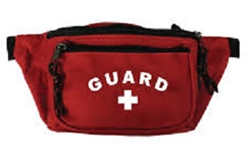 Perfect to hold a CPR mask, whistle and other essentials
Los Angeles, CA (PRWEB) January 14, 2015
When a lifeguard is on duty, often times the lifeguard has difficulty carrying essential items. Since many times a lifeguard cannot have any type of backpack or bulky bag with them, it can be hard to pick and choose essential items that need to remain with the lifeguard throughout the shift. Now Lifeguard Master, the popular lifeguard supply website, has a new line of fanny packs designed specifically for lifeguards and their needs.
In the new line of fanny packs offered by Lifeguard Master, both stuffed and unstuffed fanny packs are available. Depending on what the lifeguard needs, the lifeguard can make a decision as to which items need to be included in a fanny pack that is with them at all times.
The classic unstuffed fanny pack, or the Lifeguard Fanny Pack, is designed to withstand the rigorous use of EMS professionals and guards on duty. Created from durable, tear resistant, nylon construction, this fanny pack or hip pack comes with a heavy duty adjustable waist strap. Available in red with a white cross and the word "GUARD" written on it in white lettering, this fanny pack measures eight inches long, five inches wide, and three inches deep. With three water resistant pockets, this hip pack is great to fill with essential items for any shift. To view a video of this fanny pack, please click on: Video of Lifeguard Fanny Pack
The stuffed lifeguard fanny pack comes equipped with lifeguard necessities such as a CPR mask with O2 inlet, antiseptic wipes, adhesive bandages, butterfly bandages, gauze pads, plastic bandages, sting relief pads, gauze tape, triangular bandage with pins, instant ice pack, and vinyl gloves. All of these essential items plus more can fit into the classic fanny pack with some extra room to spare.
"I just got this product today [and] it has everything that a lifeguard needs. Good job on pointing me in the right direction. I will definitely be ordering from [Lifeguard Master] again," says Issac in Canada.
The First Responder fanny pack comes partially stuffed. A different bag than the classic fanny pack, the First Responder lifeguard fanny pack comes with a CPR mask with O2 inlet, foil blanket, black lifeguard whistle, break-a-way lanyard, and vinyl gloves. The word "GUARD" is written in the white cross for easy lifeguard identification. This red fanny pack is created from durable nylon to last through multiple first responder needs. With fewer items stuffed, however still essential, there is still room for other items for a lifeguard to carry such as sunscreen.
Reese from Voorhees, New Jersey says, "I placed an order and received [it] almost immediately. The quality of [items] I ordered was outstanding and when I called with a question about my order, I was greeting with friendliness, courtesy, and was very much accommodated. I would be happy to order from this website again!"
The last type of fanny pack in the line is the lifeguard fanny pack with a towel strap. This red hip pack has three water resistant pockets, a durable towel strap, and a heavy-duty adjustable waist strap. Created from durable, tear resistant nylon, this fanny pack can hold a variety of essential items a lifeguard may need while on duty. This fanny pack has the word "GUARD" written with a white cross for easy lifeguard identification. Especially helpful for those hot days, this fanny pack allows a lifeguard to attach a small towel so it is at the ready when the lifeguard needs to dry off a little.
With so many different varieties, Lifeguard Master has a hip pack or fanny pack for any lifeguard needs. Since lifeguards often times only have their pockets to hold essential items, these fanny packs come stuffed or unstuffed for customized carrying. With this new line of fanny packs or hip packs for lifeguards, Lifeguard Master is able to make sure lifeguards have what they need, when they need it, while on duty.
Lifeguard Master has been in the emergency and lifeguard industry for many years. Sammy, the owner and founder of Lifeguard Master has been a lifeguard himself for 7 years. He knows what it takes to be an effective lifeguard and through the years has built a quality lifeguard store to accommodate for the anticipating needs of lifeguards around the country and around the world. Lifeguard Master's determination to excellence and water & rescue safety has quickly made it a leader in its industry. For more information, please give us a call, send us an e-mail or visit our website. Also to stay updated with the latest news in lifeguard and emergency supplies, please visit our lifeguard forum where lifeguards from around the country and world stay connect, and post the latest lifeguard news at LifeguardsOnline.com.
Sammy
Lifeguard Master
(714) 605-3090
http://LifeguardMaster.com