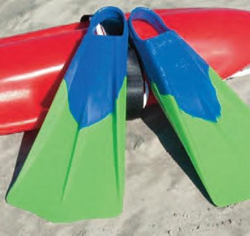 The stop to go for ocean lifeguard fins
Los Angeles, CA (PRWEB) March 10, 2015
First responders and lifeguards do not take any chances. They need top quality supplies and something that is going to perform well during any condition. Ocean rescuers around the world use rescue fins to help them get to where they want to go in the water. This is especially the case if the ocean water has harsh currants that may make swimming to the destination difficult. For this reason, many ocean rescuers who need to go longer distances and through choppy water use rescue swim fins for the emergency first response. Lifeguard Master, the popular lifeguard supply company, has recently introduced a new line of rescue swim fins and lifeguard flippers for professionals and first responders.
Ocean rescue swim fins can serve multiple purposes. When not in use of an actual rescue, swim fins help increase fitness, increase ankle flexibility, increase cardiovascular conditioning, improve technique, improve speed, and improve endurance. Training with rescue swim fins is a great way to build strength and focus on technique, which is important for the emergency responder. Lifeguard Master offers a few new styles of ocean rescue swim fins that are ideally made for the ocean first responder and lifeguards around the world.
The Lifeguard Flippers are the Voit Duck Feet Lifeguard Swim Fins style. Available in six different sizes, these swim fins are a long-time lifeguard favorite. With a stiff blade and soft rubber foot pocket, these swim fins float very well while allowing the lifeguard to get places she needs to go. These fins have an incredibly soft and smooth foot box while still allowing the blade to be powerful. Crafted from a unique raw rubber blend, these fins are a favorite of the US Navy Seals and have been recognized as a top pick amongst bodysurfers, big wave riders, skin divers, scuba divers, and of course, lifeguards.
The next in the new line are the Churchill Makapuu Fins with a special patented dolphin design for maximum power and acceleration. These fins have a foot pocket design that are extremely comfortable and will not give the wearer cuts and sores on their feet. Made of 100 percent natural gum rubber, these fins provide a firm and gentle fit. These rescue swim fins provide amazing acceleration. The first responder will see that these fins provide excellent power to catch waves with less energy, even through the harsh currants.
Another pair of swim fins in Lifeguard Master's new line are the V-Duck Swim Fins. These V-Duck Ocean Rescue Swim Fins are from the same makers of the highly acclaimed Duck Feet fins. The non-marking and full floating fins have universal foot pockets and are hydro-dynamically designed for greater propulsion with minimum effort making swimmers and divers glide through the water. These fins have a shorter blade compared to the Duck Feet fins and have an extremely slim profile. Lightweight and self-floating, these V-Duck Swim Fins are available in five different sizes.
Another set of fins are the DaFiN swim fins. They are very light weight and float very well. They are very colorful, and are used by Honolulu and LA County Lifeguards. DaFiN ocean rescue swim fins have earned their reputation with strong endorsements from the world's best water men. It has become the #1 choice of lifeguards, body surfers, and top water men around the world.
Also available from Lifeguard Master is the Dive Bag for swim fins. Created from a strong mesh and solid bottom base, this bag has a shoulder strap with a top tie for a secure and easy-to-carry bag. Available in either lime and black or blue and black, this bag is perfect to carry dry or wet fins to and from practice or work.
No matter if a swimmer is just beginning or experienced, fins can help build strength, improve technique, or get the swimmer where they need to go. These different styles of ocean rescue swim fins are designed for any ocean first responder world wide, making Lifeguard Master the go-to destination for ocean rescue swim fins and lifeguard flippers.
Lifeguard Master has been in the emergency and life saving industry for many years. Sammy, the owner and founder of Lifeguard Master has been a lifeguard himself for 7 years. He knows the importance of having all the equipment readily available for a first responder, and through the years Lifeguard Master has become a robust lifeguard supply and lifeguard store company, accommodating the anticipating needs of first responders around the country and around the world. Lifeguard Masters determination to excellence and rescue safety has quickly made it a leader in its industry. For more information, please give us a call, send us an e-mail or visit our website. Also to stay updated with the latest news in emergency supplies, please visit our forum where rescue professionals from around the country and world stay connect, and post the latest emergency news at LifeguardsOnline.com.
Sammy
Lifeguard Master
(714) 605-3090
http://www.LifeguardMaster.com