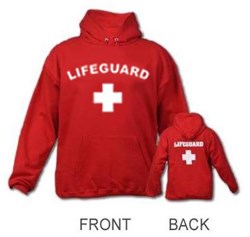 Dallas, TX (PRWEB) October 22, 2013
One of the most important necessities of a beach or pool is having a certified lifeguard on duty. Lifeguards want to make sure they are clearly identifiable and comfortable so they can concentrate on the public they serve. Now, the popular lifeguard apparel company, Lifeguard Master, has introduced a new and comfortable hoodie for cooler nights at the beach or pool.
The lifeguard hoodie comes in bright red color with white lettering for easy visibility. It is currently available at a discounted price and more of a discounted price for multiple orders. This sweatshirt is a great gift or wonderful addition to a lifeguard wardrobe due to the durability and comfort that it provides. For more information on this, please go to: http://www.lifeguardmaster.com/lifeguard-hoodies-hooded-sweatshirts.
Lifeguard Master is a company that offers quality lifeguard apparel including t-shirts, hoodies, caps, visors, whistles, CPR equipment and more. Some outside of the lifeguard community might think that all lifeguard shirts and hoodies look the same; however, Lifeguard Master pays attention to many details that make a difference in the quality and assurance of their products.
The hoodie has a front pocket pouch and the material is made of 50 percent cotton and 50 percent polyester. Every lifeguard sweatshirt has the word "LIFEGUARD" on it with a cross on the front as well as the back of the sweatshirt. The word is always very visible on products from Lifeguard Master. For more info, please go to: http://www.lifeguardmaster.com/products/LifeguardHoodie.
One customer wrote, "Today I received my X-Large red lifeguard hoodie. It was perfect. The hoodie is my reward for when I go back to Asia to finish school to become an open water scuba instructor. I cannot wear it until then. I worked as and taught myself lifeguarding in high school and I excelled during my Rescue Certification, so I thought I would give myself something to remind me of where I started and why I love the water."
Lifeguard Master puts three coats of International Coating, a quality name brand ink, on every sweatshirt. The company then allows the ink to dry under a Flash Dryer, an intense heating machine. This process allows the ink to set permanently on every creation made by Lifeguard Master, and even after several trips through the washer, the lifeguard sweatshirt will look crisp and glare-free allowing for a shirt that looks nearly brand-new every time the lifeguard wears it. To view a video on this product, please click on Lifeguard Hoodie.
The hoodie is a pullover hoodie and is incredibly comfortable to wear. This makes the hoodie perfect for cooler temperatures. The hoodie has double napped fleece to provide customers with a loftier, softer feel. For more information, please click here for the website.
The company also provides quick delivery for customers. Another customer wrote to Lifeguard Master, "Thank you so much for the very speedy delivery! I actually loved the navy blue jacket and my staff was very happy with the blue ones. I will hopefully be ordering a few more in red here soon due to the growing interest of lifeguards."
Messages like these are passed to Lifeguard Master all the time due to the great customer service they provide. This lifeguard apparel company knows that satisfying customers is the best way of doing business which is why they provide quick and speedy delivery with wonderful products. For more information, please go to: http://lifeguardmaster.com/lifeguard-hoodies-hooded-sweatshirts.
Debbie from Hidden Hills, California says, "You are great! I am so impressed with the quality, pricing and mostly the speed with which I received my order! Thank you so much! I would recommend you to anyone. I am very happy!"
Seeing messages like these please the staff at Lifeguard Master because of all the hard work and effort they put in to every order.
Lifeguard Master has been in the emergency and lifeguard industry for many years. Sammy, the owner and founder of Lifeguard Master, has been a lifeguard himself for 7 years. He knows what it takes to be an effective lifeguard and through the years has built a quality lifeguard store to accommodate for the anticipating needs of lifeguards around the country and around the world. Lifeguard Master's determination to excellence and water & rescue safety has quickly made it a leader in its industry. For more information, please give us a call, send us an e-mail or visit our website. Also to stay updated with the latest news in lifeguard and emergency supplies, please visit our lifeguard forum where lifeguards from around the country and world stay connect, and post the latest lifeguard news. Please click on: Lifeguard Forum.
Sammy
Lifeguard Master
(714) 605-3090
http://LifeguardMaster.com