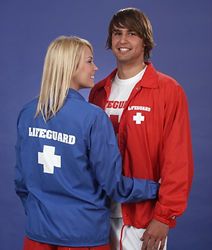 Highly visible and professional lifeguard jacket
Los Angeles, CA (PRWEB) November 20, 2014
When a lifeguard is on duty, they have to be completely focused on the job. Lifeguards cannot be dreaming about a heated room or curled up and shivering to keep warm. Cool summer nights are common, especially near the water where the breeze might make it cooler on a beach or even when watching others swim in a heated pool. Since Lifeguard Master, the popular lifeguard supply company, now offers a new line of lifeguard jackets to help keep lifeguards comfortable on cool nights.
Whether a lifeguard works the morning or evening shift, it can be chilly or uncomfortable at times. No matter what state or country a lifeguard is located in, anytime of year can have spurts of cooler weather making a lifeguard jacket a useful tool to have on hand.
This jacket is a windbreaker style that has the word "LIFEGUARD" and a cross on the corner breast on the front and the same word and symbol as a larger print on the back. Ideal for layering in cooler weather, these windbreakers are available in a bright red or bright blue color for easy visibility. Some prefer the blue but the most popular one is the red lifeguard jacket due to red being traditionally the color of lifeguards. For a video of the red jacket, please click on: red lifeguard jacket video.
"We ordered [a jacket] on Friday and [received] it on Monday. Here they are! A windbreaker to keep me warm in the morning. [My Team] looks good because the old [jackets] were super faded, these got here quick and Lifeguard Master is awesome," says one customer in an online review.
The lifeguard jacket has button closures down the middle front of the jacket along with two pockets on the sizes. The bottom of the jacket has a drawstring allowing lifeguards to have a custom fit. Elastic at the wrist allows the jacket to keep warm air in and cool air out.
When a lifeguard is stationed at their post, it is extremely important for the lifeguard to remain comfortable. If a lifeguard is distracted because they are uncomfortable and cold, it can make them not pay as much attention to the public they serve. When a lifeguard is shivering from the cold and focused more on how many minutes they have left of their shift, they take their attention away from lives on the beach or in the pool.
Because safety and a lifeguard feeling comfortable is so important, Lifeguard Master has made creating comfortable and warm clothes for lifeguards a priority. With new clothing lines such as the new line of lifeguard jackets offered by Lifeguard Master, lifeguards can select the tools and apparel they need to do their job effectively.
A lifeguard jacket is good for any lifeguard to own. A regular jacket or sweatshirt would go over a t-shirt or swimsuit that would cover up the word "LIFEGUARD" and cross on lifeguard uniforms. By having a nice and comfortable jacket specifically for lifeguards, those on duty can feel assured people would be able to identify them in the event of an emergency easily. With bright colors, lifeguards can be confident that the public they serve will be able to see them from a distance and come to them if a situation occurs.
Whether the sun is shining, the wind is gusting, or the temperature is cooler than usual in the morning or afternoon, having a blue or red lifeguard jacket can be extremely useful to have. This windbreaker jacket is comfortable and a useful lifeguard tool as it serves as a lifeguard uniform that the public knows to watch out for if an emergency happens. No matter the region, a lifeguard serves their public in, a jacket and windbreaker with the lifeguard symbol is a great and useful uniform addition to have.
In addition to jackets, Lifeguard Master has a selection of regular lifeguard uniforms and attire including lifeguard t-shirts, tank tops, sweatshirts, and so on. Please feel free to visit their website for your and your staff's lifeguard attire needs.
Lifeguard Master has been in the emergency and life saving industry for many years. Sammy, the owner and founder of Lifeguard Master has been a lifeguard himself for 7 years. He knows the importance of having all the equipment readily available for a first responder, and through the years Lifeguard Master has become a robust lifeguard supply and lifeguard store company, accommodating the anticipating needs of first responders around the country and around the world. Lifeguard Masters' determination to excellence and rescue safety has quickly made it a leader in its industry. For more information, please give us a call, send us an e-mail or visit our website. Also to stay updated with the latest news in emergency supplies, please visit our forum where rescue professionals from around the country and world stay connect, and post the latest emergency news at LifeguardsOnline.com.
Sammy
Lifeguard Master
(714) 605-3090
http://www.LifeguardMaster.com