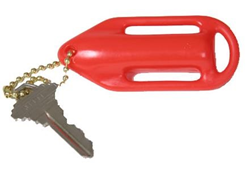 A stylish lifeguard key chain that will surly keep your keys afloat
Los Angeles, CA (PRWEB) November 26, 2014
When a lifeguard is at work, she might carry things with her that are necessary for the job. Many times, lifeguards must carry some type of key with them, whether it is to unlock a utility closet or for the office. Since a lifeguard is usually wearing a swimsuit and maybe a shirt, there is very little room to place personal items. For this reason, many lifeguards carry a waist pack or the like with them. Since keys can easily be lost at the bottom of the pool or beach, many lifeguards choose to invest in a floatable key chain. Now the popular lifeguard supply company, Lifeguard Master, offers a full line of key chains including floatable key chains.
Lifeguard Master offers two popular floatable lifeguard key chains. One style is solid red with white lettering that says "GUARD" on it. This lifeguard key chain mimics the appearance of a foam rescue tube. Measuring four inches in length and made by Kemp, this key chain is perfect for any lifeguard. This key chain is useful as it can float in the water if keys fall in the water and it is great for regular keys where someone might want to show everyone that they are a lifeguard.
The other floatable lifeguard key chain mimics the appearance of a rescue can. With a simple bright red appearance, this key chain does not have any wording on it making it perfect for those who are lifeguards, swimmers, or even watersport enthusiasts. Measuring three and a half inches long, this rescue can style lifeguard key chain is stylish and incredibly efficient, making it perfect for anyone that spends time in the water. For a video of this rescue can key chain, please click on: rescue can lifeguard key chain video
A third popular lifeguard key chain is the CPR mask key chain. Lifeguards and others trained in CPR can have a CPR mask at the ready anytime they have their keys in case a situation arises where CPR has to be performed. CPR masks are a hygienic way to deliver CPR effectively. This key ring CPR mask has a zippered compartment and can easily be attached to keys to take on the go. With a red package, the CPR mask is an inexpensive barrier with a one-way valve to prevent direct contact with a victim's mouth, nose, and face. Perfect for anyone trained in CPR, the CPR mask key ring is great as a gift for those who like to be prepared.
Also introduced with the new line of lifeguard key chains are the floating and polarized sunglasses from Lifeguard Master. These polarized, 100 percent UVA/UVB solar protection sunglasses are great for those around the water. Whether a swimmer, lifeguard or someone interested in watersports, these sunglasses are great because they float in water and protect eyes from the sun. A smoked color lens and matte black frame allow for a stylish set of sunglasses. Made of shatterproof polycarbonate lenses, these sunglasses are both tough and light making it perfect for lifeguards and swimmers.
Lifeguard Master also offers sunscreen and lip balm key chains. The sunscreen key chain is SPF 30 and comes on a carabineer key chain. The special formula is non-greasy, non-comedogenic, and free of PABA, fragrance, wheat, gluten, glycol, and nut oils. This formula allows skin to breathe easily in the sun or shade and helps keep the body cool. Lifeguard Master's lip balm on a key chain is also SPF 30, allowing lifeguards to be protected from the sun. Protecting against UVA/UVB rays, this lip balm contains Vitamin E and Aloe Vera for moisturized lips.
No matter if someone is a lifeguard or just enjoys the outdoors, many lifeguard key chains offered by Lifeguard Master help different people from all sporting backgrounds. Perfect for anyone who plans to go out in the sun or is simply CPR certified, these key chains and key rings from Lifeguard Master will keep someone comfortable and protected throughout the day.
Lifeguard Master has been in the emergency and life saving industry for many years. Sammy, the owner and founder of Lifeguard Master has been a lifeguard himself for 7 years. He knows the importance have having all the equipment readily available for a first responder, and through the years Lifeguard Master has become a robust lifeguard supply and lifeguard store company, accommodating the anticipating needs of first responders around the country and around the world. Lifeguard Masters determination to excellence and rescue safety has quickly made it a leader in its industry. For more information, please give us a call, send us an e-mail or visit our website. Also to stay updated with the latest news in emergency supplies, please visit our forum where rescue professionals from around the country and world stay connect, and post the latest emergency news at LifeguardsOnline.com.
Sammy
Lifeguard Master
(714) 605-3090
http://www.LifeguardMaster.com