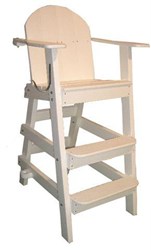 Has withstood ocean elements for 20 years.
Philadelphia, PA (PRWEB) October 29, 2013
On a warm summer day at the pool or the beach, there can be massive amounts of people in the swimming area for a lifeguard to watch. For this reason alone, it is important that a lifeguard stays comfortable and alert during their shift. The popular lifeguard supply company, Lifeguard Master, offers a variety of high quality lifeguard chairs and towers.
Lifeguard chairs and towers sold at Lifeguard Master come with many features that make a lifeguard's job easier and more effective. The chairs were designed with comfort in mind, which helps a lifeguard stay more alert during their shift. These chairs also withstand hard ocean elements making the chairs perfect for beach watching.
Most of the chairs and towers come with an umbrella holder to protect lifeguards from the sun as well as a hook for ring buoys or accessories making grabbing these items in an emergency easier. Chair stands have no slip steps assuring safety for lifeguards. The best part is that these chairs and towers are maintenance free meaning it never peels or chips, never needs painting and never rusts. For more information on this, please go to: http://www.lifeguardmaster.com/lifeguard-chairs-stands-and-towers.
These lifeguard chairs are the highest quality chairs on the market and are the most cost effective lifeguard chairs available. The chairs offered on Lifeguard Master are made of a poly material and stainless hardware that is exceptionally strong and withstands mega amounts of wear and tear. All of the major parts are pre-assembled before shipment and the chair comes almost fully assembled for easy setup.
When Lifeguard Master first started making these chairs, they put them in the ocean water and after 20 years in the ocean water, they are still standing strong due to the high quality products and assembly Lifeguard Master does.
Not all lifeguard chairs are the same and the ones sold and manufactured by Lifeguard Master definitely stand out in quality. When shopping for a lifeguard chair, one has to look at how comfortable the lifeguard is going to be. An uncomfortable lifeguard will be focused on other things and not on his duty of the people in the swimming area. A lifeguard also needs a chair that will last and can withstand the surrounding elements. For more information on this, please go to: http://www.lifeguardequipmentandapparel.com/cat/lifeguardchairs
For less crowded swimming areas, a smaller chair is acceptable and a busy swimming area should have a slightly taller chair to watch over everyone. Tall chairs and towers are beneficial in busier places so a lifeguard can view deeper into the water by being higher up. This way a lifeguard can view anyone under the water that may need assistance. This can become a life-saving option for busier swimming areas. A Lifeguard Master employee said in relation to tall chairs "I was a lifeguard for seven years and one time I saw someone at the bottom of the pool that needed help. I then rushed in and saved that person."
Another benefit of a tall lifeguard tower is if anyone needs to find a lifeguard in an emergency, all someone has to do is look up and see the chair and the person sitting in it. People will easily be able to find the lifeguard and know who to go to in an emergency which is incredibly beneficial in a crowded area. Tall lifeguard chairs can also serve the purpose of knowing who has authority of the pool and enforces the concept of the lifeguard being in charge of the swimming area including the deck. For more information on this, please visit: http://lifeguardshirt.com/lifeguardchairs/.
.
Lifeguard Master offers incredible customer service in any category that someone orders from. One customer said, "You are great! I am so impressed with the quality, pricing and mostly the speed with which I received my order. Thank you so much! I would recommend you to anyone. I am very happy!" To view a video on this, please click on: https://www.youtube.com/watch?v=CRBl1CB_wAg.
Lifeguard Master has been in the emergency and lifeguard industry for many years. Sammy, the owner and founder of Lifeguard Master has been a lifeguard himself for 7 years. He knows what it takes to be an effective lifeguard and through the years has built a quality lifeguard store to accommodate for the anticipating needs of lifeguards around the country and around the world. Lifeguard Master's determination to excellence and water & rescue safety has quickly made it a leader in its industry. For more information, please give us a call, send us an e-mail or visit our website. Also to stay updated with the latest news in lifeguard and emergency supplies, please visit our lifeguard forum where lifeguards from around the country and world stay connect, and post the latest lifeguard news. Please click on: Tips for being a lifeguard.
Sammy
Lifeguard Master
(714) 605-3090
http://www.LifeguardMaster.com