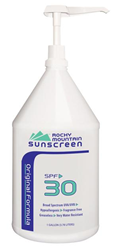 The lifeguard sunscreen gallon is perfect for a staff of lifeguards for a beach, pool or lake.
Los Angeles, CA (PRWEB) September 30, 2014
Many people are aware of the dangers the sun's rays can have on bare human skin. In recent years, many people are using sunscreen with high SPF's and more frequently due to the knowledge of how harmful sunrays can be. Especially when a person's profession requires them to be outside most of the day, it can be extremely important to protect oneself from the sun no matter how cold or warm it is. The popular lifeguard supply company, Lifeguard Master, has recently released a new line of sunscreen that is specifically designed for the lifeguard and the lifeguard's environment.
Lifeguard Master offers several different types of sunscreen in the new sunscreen line. There is a gallon pump, quart pump, small tube, standard tube, lifeguard lip balm with key ring, or small tube with keychain carabiner that lifeguards can choose from.
Depending on the environment the lifeguard is in, lifeguards will have to apply sunscreen several times during a shift. Since it is recommended that sunscreen is reapplied at least every two hours, a large beach or swimming pool with multiple lifeguards can go through a lot of sunscreen to protect themselves while on duty. All sunscreens from Lifeguard Master are SPF 30+ that use a water-resistant broad spectrum, which is perfect for extended outdoor activities.
Not only is this sunscreen perfect for lifeguards, but it is also useful for all outdoor activities including athletics, shopping, picnicking, walking, jogging, hiking, gardening, or going around town.
When applying sunscreen, many people miss spots such as the lips, ears, around eyes, neck, scalp, hands, and feet. This can be especially dangerous over time where skin cancer can appear.
Not only does sunscreen help protect the lifeguard from sunburns, but it also makes them feel more comfortable. When a lifeguard is comfortable, they can focus on the task at hand that is watching patrons of the pool or beach. By keeping a lifeguard feeling comfortable in the sun and outdoors, they are more confident and able to concentrate on their job as a lifeguard rather than their sunburn.
The lifeguard sunscreen gallon or quart can be especially beneficial to large groups who require sunscreen. Keep it in the office or changing room where lifeguards go before a shift of during a break so they can easily and conveniently reapply as needed. Purchasing a larger container of sunscreen can be more economically efficient in the long run.
For those who keep a little stock pile of items with them at their watch, the smaller tube or standard tube can be a great addition to items. The lip balm or keychain sunscreen can easily be strapped onto a bag, backpack, purse, or key ring for convenience and easy accessibility.
The sunscreen supplied by Lifeguard Master contains broad spectrum UVA/UVB protection and offers a three-year shelf life for long lasting protection. Not only does this line of sunscreen protect from harmful sunrays, but also nourishes and moisturizes skin. This non-greasy and non-comedogenic sunscreen is safe for faces and hypoallergenic so it can be used daily. Free of PABA, fragrance, wheat, gluten, glycol, and nut oils, this sunscreen is great for people and lifeguards of all kinds.
The superior Bonding Base Formula means this sunscreen will not go off the skin in the water yet it still allows skin to breathe and perspire normally, allowing the lifeguard's body to remain cool and comforted.
It is no wonder so many people are choosing sunscreens based for both personal and commercial use since sunscreen is becoming increasingly popular to protect the skin. No matter the outdoor activity, sunscreen can help lead to a longer, healthier, and happier life from protection from dangerous UVA/UVB rays. So whether a person or a group is traveling, hiking, swimming, running, or at an outdoor picnic, sunscreen from Lifeguard Master can make any outdoor event into an even more enjoyable one. To visit their sister site on this product, please go to: Also, to visit their sister site, please go to: http://www.lifeguardshirt.com/lifeguardsunscreen/
Lifeguard Master has been in the emergency and life saving industry for many years. Sammy, the owner and founder of Lifeguard Master, has been a lifeguard himself for seven years. He knows the importance have having all the equipment readily available for a first responder, and through the years, Lifeguard Master has become a robust lifeguard supply and lifeguard store company, accommodating the anticipating needs of first responders around the country and around the world. Lifeguard Masters determination to excellence and rescue safety has quickly made it a leader in its industry. For more information, please give us a call, send us an e-mail or visit our website. Also to stay updated with the latest news in emergency supplies, please visit our forum where rescue professionals from around the country and world stay connect and post the latest emergency news at LifeguardsOnline.com.
Sammy
Lifeguard Master
(714) 605-3090
http://LifeguardMaster.com