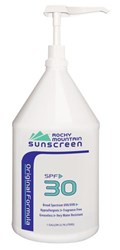 Orlando, FL (PRWEB) October 23, 2013
When lifeguards are focused on the public it can be difficult for them to focus on themselves. Many lifeguards spend their days out in the sun for hours, which can be damaging and dangerous to their skin leading to painful sunburns or even skin cancer. Thankfully for lifeguards, the popular lifeguard supply and accessories store Lifeguard Master is offering a new line of lifeguard sunscreens.
The sunscreens that Lifeguard Master offers are very popular for lifeguards. It is long lasting, nourishes and moisturizes the skin and most importantly, protects against the sun. Currently, Lifeguard Master has six different variations of the popular sunscreen. Lifeguard Master has a gallon-sized pump, a quart-sized pump, a standard tube, a small tube, a keychain-sized tube and lip balm with a key ring. For more information, please click on: http://www.lifeguardmaster.com/SUNSCREEN.
The lifeguard sunscreen gallon-sized and quart-sized pump styles are very popular for a facility that has a lifeguard staff. The pump styles are very easy for multiple lifeguards to use and can easily be applied by lifeguards while on watch.
The sunscreen sold by Lifeguard Master is safe and can be used for the face as well as hypoallergenic so this sunscreen is safe for everyday use. The sunscreen Lifeguard Master offers is non-greasy and fragrance free so when applied, the lifeguard's skin can breathe and perspire keeping the body cooler.
The lifeguard sunscreen has a Superior Bonding Base Formula that allows for broad spectrum UVA and UVB protection. This sunscreen interlocks with the upper layer of skin to last longer. The sunscreen is free of vitamin A (retinyl palmitate), PABA, fragrance, wheat, gluten, glycol and nut oils. This lifeguard sunscreen also is non-comedogenic and is safe to use on faces as well as the rest of the body that might be exposed in the sun.
The popular lifeguard sunscreen is available in a small one-ounce tube, a standard six-ounce tube, a handy one-ounce keychain, economy one-gallon pump, economy quart pump and a keychain lip balm.
Lifeguard master also offers a variety of apparel and accessories including lifeguard t-shirts, hoodies, swimsuits, caps, hats, pants, jackets, sunglasses and more. The popular resource for lifeguard necessities also offers lifeguard equipment like whistles, CPR masks, rescue tubes, diving bricks, life vests, spine boards and many other supplies. Please click here for more info on this.
One purchaser of t-shirts from Lifeguard Master said, "I have to let you know that I am amazed! I received the t-shirts the day after I ordered them off the internet. Thank you so much for efficiency."
Lifeguard Master takes a great deal of pride in their exceptional customer service, which includes fast delivery. Lifeguard Master has the true interests of lifeguards in mind. One customer wrote, "There are other lifeguard sites that sell stuff, none as intoned to lifeguard needs as this site is. I am a master trainer of lifeguards of 18 years for the Red Cross and I can say I love this store."
Lifeguard Master is available by phone or online for any questions customers may have. Lifeguard Master offers a variety of weekly sales on popular products. For more info, please click on: http://www.lifeguardmaster.com/products/Lifeguardsunscreengallonwithpump.
Lifeguard Master has been in the emergency and lifeguard industry for many years. Sammy, the owner and founder of Lifeguard Master has been a lifeguard himself for 7 years. He knows what it takes to be an effective lifeguard and through the years has built a quality lifeguard store to accommodate for the anticipating needs of lifeguards around the country and around the world. Lifeguard Master's determination to excellence and water & rescue safety has quickly made it a leader in its industry. For more information, please give us a call, send us an e-mail or visit our website.
Sammy
Lifeguard Master
(714) 605-3090
http://www.LifeguardMaster.com