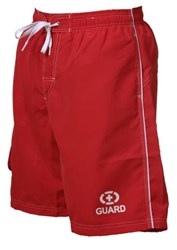 Houston, TX (PRWEB) November 27, 2013
A lifeguard's swimsuit is a purposeful tool for function and to easily identify a lifeguard. This tool can be especially helpful on a crowded beach or pool area. Now the prevalent company and supplier of lifeguard supplies and apparel, Lifeguard Master, has updated their popular men's swim shorts made specifically for lifeguards.
The upgraded lifeguard swimsuit is lightweight and keeps lifeguards cool for long days on the poolside or beachfront. The men's swim shorts feature a white cross with a circle around it as well as the word "GUARD" boldly printed on the front for easy identification. The shorts are a bold red color with duel front pockets and a side cargo pocket.
Dakota from Thousand Oaks, California says, "This is exactly what I was looking for! It is better quality and better priced than many of its competitors. It was shipped within ten hours and I received it the very next day. This is my new shop for guard gear." For more information on this, please visit: http://www.lifeguardmaster.com/all-lifeguard-apparel-and-accessories.
The men's swim shorts are 100 percent polyester with a mesh liner inside. The men's swim shorts are 17.5 inches long with an 8.5 inches inseam so lifeguards do not feel vulnerable, but comfortable.
The upgraded version of this popular men's lifeguard swimsuit feature a circle design with a white cross, encompassed in a white circle. Careful thought was put into making these men's swim shorts with the lifeguard and long shifts in mind. The exterior of the shorts was designed with comfortable movement in mind. The shorts were designed for fluid movement without restriction or danger of snagging. The drawstring belt allows the lifeguard to adjust the swim shorts for his particular comfort fit with interior mesh lining.
The biggest asset for these men's swim shorts would be the visibility they provide. In any emergency, the public have to be able to identify the lifeguard easily which these shorts allow them to do. The "GUARD" logo will help the lifeguard be identified easily and the bright and bold red color also make the lifeguard easily identifiable as well. To view a video of these shorts, please visit: https://www.youtube.com/watch?v=HXSH9DNo-7E.
A customer from Hurley, New York, Kellee, says, "Wow! I was surprised at how fast I received my order! Thanks for the fast return. Also, the quality of the shirts and suit are exceptional! I will recommend your company to other swimmers and lifeguards!"
Lifeguard Master has been providing excellent customer service and products to lifeguards for years and continue to improve their product based on technology and customer feedback. Lifeguard Master is a leader in the lifeguard industry for lifeguard supplies and apparel.
"As the Aquatics Manager of one of Boston's and certainly the country's finest schools, I found that this store suited my needs for lifeguard apparel and my budget! The customer service is awesome, the shipping turnaround is amazing, and the quality of the gear supersedes that of the expensive branded logos. My guards are happy, and my director is happy with my spending costs for uniforms. Thank you! I will be staying with your company for all of my lifeguard apparel needs," says Steven from Chestnut Hill, Massachusetts.
When a lifeguard goes to the pool or beach, the proper uniform is necessary to be able to identify the lifeguard quickly and easily in case there is an emergency. Lifeguard Master created an exceptional men's lifeguard swimsuit with the lifeguard and public in mind. When ordering from Lifeguard Master, not only do customers know they will receive a great product, but they will receive amazing customer service as well. For the ebay listing on these shorts, please visit: http://www.ebay.com/itm/Mens-Lifeguard-Swimsuit-/131056693765.
To begin shopping for these lifeguard shorts, supplies, apparel or accessories today, visit LifeguardMaster.com. For more information on this, please visit: http://www.lifeguardshirt.com/menslifeguardswimsuits/.
Lifeguard Master has been in the emergency and lifeguard industry for many years. Sammy, the owner and founder of Lifeguard Master has been a lifeguard himself for 7 years. He knows what it takes to be an effective lifeguard and through the years has built a quality lifeguard store to accommodate for the anticipating needs of lifeguards around the country and around the world. Lifeguard Master's determination to excellence and water & rescue safety has quickly made it a leader in its industry. For more information, please give us a call, send us an e-mail or visit our website. Also to stay updated with the latest news in lifeguard and emergency supplies, please visit our lifeguard forum where lifeguards from around the country and world stay connect, and post the latest lifeguard news at LifeguardsOnline.com. To view the latest articles, please click on: http://www.lifeguardmaster.com/lifeguardsonline/articles.php.
Sammy
Lifeguard Master
(714) 605-3090
http://LifeguardMaster.com