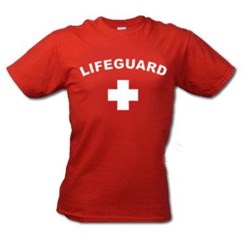 Houston, TX (PRWEB) September 25, 2013
For those looking for lifeguard apparel including t-shirts, it can be difficult to find apparel that is easy to identify a lifeguard with. Now Lifeguard Master offers quality lifeguard apparel at incredibly reasonable prices. Lifeguard Master offers a variety of options to fit just about any lifeguard need when it comes to a lifeguard uniform.
Some people outside the lifeguard community might think all lifeguard shirts look the same, however, different styles can vary in message and purpose. When Lifeguard Master designs a t-shirt or tank top, the first priority to them is to make sure that the word "LIFEGUARD" is highly visible so many people in the lifeguard's surrounding area can see that that person is clearly a lifeguard. When an emergency situation arises, it is important for swimmers to know who to go to for help. Lifeguard Master also makes sure that the lettering and font is clear, precise and thick so the word "LIFEGUARD" can be easily read by many people from a distance. Not only does Lifeguard Master design their shirts with quality, but they also create their product with quality. For more information, please visit: http://www.lifeguardmaster.com/lifeguard-t-shirts-and-lifeguard-tank-tops.
One of the ways Lifeguard Master is able to provide quality lifeguard shirts and apparel, is the company puts three coats of International Coating, a quality name brand ink, on every lifeguard t-shirt and tank top they create. The t-shirt creators at Lifeguard Master then allow the ink to dry under a Flash Dryer, an intense heating machine. This process allows the ink to set permanently on every creation. And even after several trips through the washer, the t-shirt will continue to look crisp and glare allowing for a shirt that looks new wash after wash.
The shirts are made of quality fabric. The company chose a shirt that is 100 percent pre-shrunk cotton which provides two major benefits. One benefit of pre-shrunk cotton means that the shirt will always be comfortable to wear. The second benefit is that the lifeguard can wash the shirt multiple times and not have to worry about the size changing. For more info, please click on: http://lifeguardmaster.com/lifeguard-t-shirts-and-lifeguard-tank-tops
An online reviewer who purchased shirts says, "I ordered this lifeguard shirt just three days ago and it came already this morning. I was very happy with how fast it came. The quality is very good. It's something that I can wear to work and feel protected from the sun and be comfortable in. The size was according to size. I ordered a small and it fits perfectly. I was just really happy with it. I can tell it's a good quality and I am definitely going to order from LifeguardMaster.com again for more lifeguarding supplies."
Most shirts and tank tops from Lifeguard Master are printed both on the front and the back to make the lifeguard easily identifiable. Popular shirt colors include red and white, but are also available in alternate colors as well. For more photos and information, please click on: Visit Website.
Lifeguard Master offers a three to five day delivery standard on all lifeguard t-shirts and tank tops. With shirt orders of 10 or more, these orders can take a bit longer and customers should expect at least five days to prepare their order.
Shirts come in a variety of colors and styles and are all made with the passion of the customer in mind. When it comes to producing a quality lifeguard shirt, Lifeguard Master knows how to create one that is efficient and lasting. Lifeguard Master understands that their product is more than just a shirt and is actually a lifesaving tool for lifeguards all over.
Lifeguard Master has been in the emergency and lifeguard industry for many years. Sammy, the owner and founder of Lifeguard Master has been a lifeguard himself for 7 years. He knows what it takes to be an effective lifeguard and through the years has built a robust lifeguard supply store to accommodate for the anticipating needs of lifeguards around the country and around the world. Lifeguard Master's determination to excellence and water & rescue safety has quickly made it a leader in its industry. For more information, please give us a call, send us an e-mail or visit our website. Also to stay updated with the latest news in lifeguard and emergency supplies, please visit our lifeguard forum where lifeguards from around the country and world stay connect, and post the latest lifeguard news. Please click on: http://www.lifeguardmaster.com/lifeguardsonline/home.php.
Sammy
Lifeguard Master
(714) 605-3090
http://LifeguardMaster.com