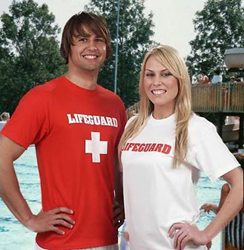 A perfect lifeguard t-shirt for the on duty guard
Los Angeles, CA (PRWEB) October 28, 2014
A lifeguard's shirt is often part of an important uniform used to easily identify these lifesaving patrons of the swimming arena. A lifeguard must be ready at any given moment to save a life so it is important that a lifeguard is actively watching those in the swimming area and not distracted by things like discomfort. Now Lifeguard Master, has upgraded their line of lifeguard t-shirts to better serve their customers.
With the utmost quality, Lifeguard Master, offers a variety of lifeguard shirts and tanks tops that stand out in the pool or beach so people know whom to turn to in an emergency. Lifeguard Master puts three coats of quality name brand ink on every t-shirt and then puts the shirt through an intense heating machine to allow the ink to permanently set on the shirt. After several washings, the shirt remains bright and vibrant to look new and crisp.
The number one thing is presence, to be easily identifiable, and establish authority. A professional shirt that stands out does just that. The guard is the authority in his or her area. He must be found during an emergency and establish presence. A good lifeguard shirt does just that. The uniform does look great, but the intent must purely be professional as people's lives may be at stake.
Steven from Chestnut Hill, Massachusetts says, "As the Aquatics Manager of one of Boston's and certainly the country's finest schools, I found that this store suited my needs for lifeguard apparel and my budget. The customer service is awesome, the shipping turn around is amazing and the quality of the gear supersedes that of the expensive branded logos. My guards are happy and my director is happy with my spending costs for uniforms."
The standard t-shirt comes in a brilliant white or a vibrant red cotton. The white shirt has bright red ink with the word "LIFEGUARD" and a cross in the center of the shirt. The red lifeguard t shirt also has the word "LIFEGUARD" and a cross in the center of the shirt with a contrasting white ink. Both of these popular shirts are beefy T's, meaning they will fit slightly bigger for comfort at the lifeguard station.
The lifeguard tank tops also come in a brilliant white or vibrant red with contrasting ink. The word "LIFEGUARD" is clearly printed in the center along with a cross to identify the lifeguard's symbol.
It is important that a lifeguard can be easily identifiable. Whether a pool or beach area is large or small, a lifeguard needs to be seen easily. For this reason, Lifeguard Master chose bright colors that can easily and effectively identify a lifeguard in an emergency situation.
The lettering is large enough to be read with little effort and seen from a distance, but small enough to fit neatly on the front of the shirt. Because of the quality ink, the letters and symbol will last longer through multiple washes and wears.
Lifeguard Master also offers a blue shirt with white lettering, a yellow shirt with red yellowing, and a white shirt with red trim for stylistic preferences. These shirts are also made with great quality and three layers of ink along with an intense heating process.
Lifeguard Master also offers this new line of t-shirts in bulk making it easy for large lifeguard groups or training centers to order uniforms at a discounted rate for easy affordability and budgeting.
Now lifeguards can know that patrons of the pool or beach area will be able to identify them in the event of an emergency. Emergency responders will also be able to identify a lifeguard in order for the lifeguard to consult the emergency responder.
Lifeguards will enjoy the comfort and the visibility of this line of lifeguard shirts. The cotton allows the lifeguard to remain cool and comfortable even in the warmest weather. With three layers of quality ink and an intense heat process, the shirts will remain vibrant and bright throughout multiple washes and wears. Lifeguards will appreciate the quality and comfort these shirts from Lifeguard Master provide.
Lifeguard Master has been in the emergency and life saving industry for many years. Sammy, the owner and founder of Lifeguard Master has been a lifeguard himself for 7 years. He knows the importance have having all the equipment readily available for a first responder, and through the years Lifeguard Master has become a robust lifeguard supply and lifeguard store company, accommodating the anticipating needs of first responders around the country and around the world. Lifeguard Masters determination to excellence and rescue safety has quickly made it a leader in its industry. For more information, please give us a call, send us an e-mail or visit our website. Also to stay updated with the latest news in emergency supplies, please visit our forum where rescue professionals from around the country and world stay connect, and post the latest emergency news at LifeguardsOnline.com.
Sammy
Lifeguard Master
(714) 605-3090
http://LifeguardMaster.com