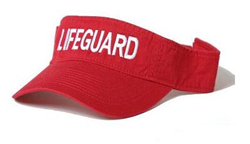 The lifeguard visor is easily adjustable and the perfect color
Los Angeles, CA (PRWEB) September 25, 2014
When acting as a lifeguard on duty, depending on the environment the guard is in, he or she can be exposed to heavy amounts of sun rays. When the on-duty guard is not protected by the sun, sunburn can develop or the guard can become uncomfortably hot. The on-duty guard's vision can also be impaired with high amounts of sun exposure, which endangers the patrons on the beach or in the pool. The popular emergency company, Lifeguard Master, now offers an effective and stylish visor specifically for lifeguards.
The visor available from Lifeguard Master has the word "LIFEGUARD" embroidered on the front that is able to be seen clearly. Made of 100 percent washed cotton twill, the lifeguard visor comes equipped with a twill sweatband so sweat does not drip down on the guard's eyes or face.
This lifeguard visor head apparel is available in bright red, vivid blue, and brilliant white with embroidery to match that easily stands out against the base color. Each lifeguard visor has an adjustable Velcro strap that fits a variety of head sizes. By using a visor to protect the face and eyes from outdoor elements, on-duty guards of all experience levels can benefit by being able to concentrate more on pool or beach patrons rather than their own comfort.
For guard supervisors and mangers that need to order supplies for their staff but need to save on expenses, Lifeguard Master has also introduced a way to get lifeguard visors for bulk discounts. The option is there by visiting the website.
"I'm very pleased with the service I received when ordering this item. The visor is easily adjustable and is the perfect color. I will definitely be visiting [Lifeguard Master] again for more lifeguard equipment," says Kari F, a recent customer. For a video of a customer review, please click on: Customer review of lifeguard visor
Both the red and blue lifeguard visors have white lettered embroidery while the white visor has bright red embroidery for easy visibility. When the on-duty guard can be easily identified and spotted, this means patrons are able to alert the on duty life saver of any issues or emergencies more quickly and effectively. By an on-duty life saver being labeled as such, patrons of the waterfront will know who to turn to for help if any such condition arises.
Since some people prefer the look of visors compared to regular caps, it can be convenient to have the option available. This is especially true for larger beaches or clubs where many different lifesaving guards work and require protection from the sun while still being easily identifiable.
Because the on-duty guard is responsible for the safety of so many people, it is important to limit any kind of distractions he or she might come in contact with. Since guards usually spend their shift in the outdoors, sun and rain can become a distraction that prevents them from giving full concentration to the patrons of the pool or beach. By wearing protective gear, such as a visor, guards are able to remain comfortable and confident that their distractions are limited as is the exposure to outdoor elements.
Even if the on-duty guard is wearing sunscreen, the sweat from their face or sunshine can cause a distraction from the task at hand. By shading the eyes, the on-duty guards can see people around them more quickly along with any immediate dangers. The guard's vision can also be compromised if sweat continuously gets in their eyes which can impair them and therefore make the environment less safe for those in the area.
Since the visor is easily adjustable, lifeguards have the option of adjusting the visor to fit better while on duty, making the visor more useful and more likely for the guard to use. Unlike other hats, the working guards can adjust this visor while on their shift rather than setting it to the side and not using it at all.
Since protection from the sun is an important factor to keep in mind while on duty, many on-duty guards wear something to keep their face cool and dry. With adjustable straps, labeled identification, a twill sweat band, and cotton frame, it is no wonder why this lifeguard visor is such a useful and popular product. Instead of just using sunglasses and sunscreen, guards now have the opportunity to keep their face covered from the elements with this bright and vivid visor.
Lifeguard Master has been in the emergency and life saving industry for many years. Sammy, the owner and founder, has been an on-duty guard himself for seven years. He knows the importance have having all the equipment readily available for a first responder, and through the years, the company has become a robust emergency supply and store, accommodating the anticipating needs of first responders around the country and around the world. The company's determination to excellence and rescue safety has quickly made it a leader in its industry. For more information, please give us a call, send us an e-mail or visit our website. Also to stay updated with the latest news in emergency supplies, please visit our forum where rescue professionals from around the country and world stay connect and post the latest emergency news at LifeguardsOnline.com.
Sammy
Lifeguard Master
(714) 605-3090
http://LifeguardMaster.com