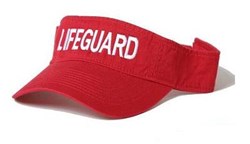 Orando, FL (PRWEB) September 26, 2013
It happens every day; a family takes their children to the beach and are having a fantastic time. Children are swimming and having a great time, but soon the family sees their son has been caught by the current and is slowly drifting further and further away from the shore. The family looks around for help and sees the lifeguard posted at her post wearing bright red lettering on her shirt and her cap to clearly identify her. Quickly, the family informs the lifeguard about their son and she dives in to retrieve him. The child is fine and the lifeguard was notified quickly because of bright visibility.
Scenarios like this happen often which is why lifeguards serve such a dire purpose on pool sides and beach fronts. With the updated apparel from Lifeguard Master, lifeguards are easily identifiable in these types of situations because of the time and effort put in to make a purposeful and high visibility product.
Lifeguard Master has recently updated these high visibility, and on the job, life saving devices such as shirts, caps, visors, whistles and more. Lifeguards need these supplies, not to look flashy, but for safety purposes. Lifeguards need to be easily identified as such for life saving. For more information on these items, please visit: http://www.lifeguardmaster.com/lifeguard-caps-hats-and-visors.
Other than visibility, one benefit of the visors and caps is they help with protection from the sun. This is crucial in keeping the sun out of the eyes and all the attention going to the water and patrons, increasing safety. Lifeguard Master's standard cap starts with a cotton poly blend that comes in a variety of colors with the most popular color being red for easy visibility. In bold cap letters, Lifeguard Master embroiders the word "LIFEGUARD" on, again for easy visibility. Some caps offered at Lifeguard Master come with adjustable backs which makes for an easy "one size fits all" fitting.
The high visibility lifeguard visors are made 100 percent washed cotton twill with the word "LIFEGUARD" embroidered on the front. The popular visor easily protects the lifeguard's face and eyes from the sun while still being able to look at the lifeguard's guarding area. Some people prefer a different look than what they would get from a regular cap which is why having a visor as an option can make a big difference. For more info and videos on these items, please visit: http://lifeguardmaster.com/lifeguard-caps-hats-and-visors
Lifeguard Master also offers bucket hats, straw hats and economy white caps. Lifeguards spend hours in the sun and being protected from the sunlight can make a huge difference in comfort and health.
In addition, Lifeguard Master offers a variety of lifeguard supplies including swim shorts, shirts, tanks, swimsuits, jackets, caps, visors, pants, key chains, sunscreen, wristbands, spine boards, rescue tubes, megaphones, whistles, life vests and much more.
One online reviewer who purchased shirts from Lifeguard Master said, "I ordered this lifeguard shirt just three days ago and it came already this morning. I was very happy with how fast it came. The quality is very good. It's something that I can wear to work and feel protected from the sun and be comfortable in. The size was according to size. I ordered a small and it fits perfectly. I was just really happy with it. I can tell it's a good quality and I am definitely going to order from LifeguardMaster.com again for more lifeguarding supplies." For more info and to visit the website, please click on: Go To Website.
Lifeguard Master has been in the emergency and lifeguard industry for many years. Sammy, the owner and founder of Lifeguard Master has been a lifeguard himself for 7 years. He knows what it takes to be an effective lifeguard and through the years has built a quality lifeguard store to accommodate for the anticipating needs of lifeguards around the country and around the world. Lifeguard Master's determination to excellence and water & rescue safety has quickly made it a leader in its industry. For more information, please give us a call, send us an e-mail or visit our website.
Sammy
Lifeguard Master
(714) 605-3090
http://www.LifeguardMaster.com