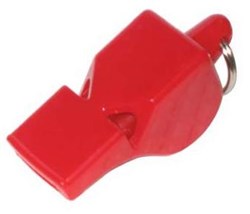 The loudest whistle you can buy.
San Francisco CA (PRWEB) November 26, 2013
Lifeguards need to be heard over loud children and crowds that are having fun and sometimes too much fun in the swimming area. When a lifeguard blows their whistle, people know to stop the inappropriate behavior or to look and listen to the lifeguard. It is important that a lifeguard's whistle is heard the first time. The popular e-commerce lifeguard supply and apparel website, Lifeguard Master, has improved their whistles to fit these specific needs for lifeguards.
One customer from Tucson, Arizona says, "This is the loudest pea-less whistle you can buy. I carry one between my teeth while riding my bicycle. They are great!"
Lifeguard Master has a variety of lifeguard whistles available for purchase along with straps. There is a standard loud whistle, a classic whistle and a Fox 40 Rescue whistle. Whistles are available for purchase in red, blue and black. The whistles are pea-less and can be heard over water and for long distances. For more information on this whistle, please visit http://lifeguardmaster.com/lifeguard-whistles-fox-40-rescue-whistles.
"My friend and I were at a rooftop this weekend. While on the tenth floor balcony to our room my friend dropped the whistle over the edge. He then went down and retrieved it blowing the whistle signaling it was intact. Three cheers to your indestructible whistles," says Vince, a customer from La Jolla, California.
Whistles purchased from Lifeguard Master have a variety of beneficial qualities. The whistles are most importantly loud which is important for lifeguards serving over large areas. Most of the whistles offered at Lifeguard Master are also pea-less which allow them to just use air to blow air loudly through the pipe. The whistles are durable and long lasting, making it suitable for the tough situations lifeguards can face. There are also optional whistle straps available for purchase allowing the lifeguard to choose the type of whistle that fits their needs. To view a video on this whistle, please visit https://www.youtube.com/watch?v=FBSApFJr-II.
Whistles range in price depending on the whistle and strap the lifeguard chooses, however a set of whistle and strap are available for a few dollars. Lifeguard Master always offers fast delivery and excellent customer service.
Caryn from Palm Beach Gardens, Florida says, "I was so impressed with the fast delivery! I purchased the lifeguard whistle and it is so loud! Some whistles are just okay. I love this company! Keep up the great work. I highly recommend this company to everyone!"
When it comes to lifeguards, whistles are not only an accessory, they are a tool. A lifeguard whistle is needed for times when split second emergency communication situations arise. Lifeguard whistles can save a life or prevent injury, so choosing a quality whistle that can be heard is important.
In an emergency situation, it can be crucial for a lifeguard to be able to get the attention of a person in the swimming area. Lifeguard whistles are the most practical tool a lifeguard carries with him or her at all times because of the difference it can make in an emergency situation. Lifeguards also use whistles to communicate evacuation if necessary due to wildlife or weather that can have a positive outcome because of the whistle alone. For more information on this whistle, please visit http://www.lifeguardshirt.com/fox40whistle/.
This tool for lifeguards, bicyclists, and other people that have to communicate quickly is one of the best investments someone can make. Whistles that are loud and effective can change the outcomes of emergencies and can communicate danger if necessary.
To begin shopping for lifeguard whistles or other lifeguard supplies and apparel, visit LifeguardMaster.com today. To view the ebay listing on this item, please visit: http://www.ebay.com/itm/LIFEGUARD-WHISTLE-/131056592893.
Lifeguard Master has been in the emergency and lifeguard industry for many years. Sammy, the owner and founder of Lifeguard Master has been a lifeguard himself for 7 years. He knows what it takes to be an effective lifeguard and through the years has built a quality lifeguard store to accommodate for the anticipating needs of lifeguards around the country and around the world. Lifeguard Master's determination to excellence and water & rescue safety has quickly made it a leader in its industry. For more information, please give us a call, send us an e-mail or visit our website. Also to stay updated with the latest news in lifeguard and emergency supplies, please visit our lifeguard forum where lifeguards from around the country and world stay connect, and post the latest lifeguard news. Please click go to: LifeguardsOnline.com.
Sammy
Lifeguard Master
(714) 605-3090
http://LifeguardMaster.com