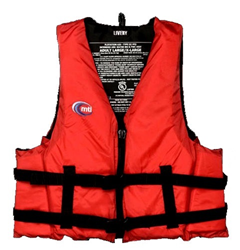 San Antonio, TX (PRWEB) February 26, 2014
Many areas require life jackets when on a boat or in the water. Due to some areas having currents being able to pull someone underneath the water, having a life jacket on for the most simple of tasks can be beneficial and end up saving someone's life. The popular lifeguard supply company, Lifeguard Master, has recently released a new line of life jackets that are useful for a variety of purposes.
The new line of life jackets offers two styles, the Life Vest Classic and a traditional life jacket with straps. These life jackets are great when going on a boat, in rough waters, floating in a river, or simply a general safety aid for both strong and beginner swimmers. Not only are these life jackets an excellent safety tool, but they are incredibly affordable as well.
Especially on a boat, it is important to have a life vest on. Boats can easily tip unexpectedly and turn patrons overboard. Already having a life vest on means that the person is less likely to immediately panic and even if they are not an excellent swimmer, they will float to the surface.
The Life Vest Classic is a Type II Standard United States Coast Guard approved yoke vest. This life vest is easy to put on and comes in three sizes. This life vest is ideal for large groups since it is more economical than the traditional life jacket. This life vest is easy to put on since it goes over the head and a quick release buckle wraps around the wearer to securely fasten to the wearer. For more information on this, please go to: http://www.lifeguardmaster.com/products/typeiistandarduscgapprovedyokevest
This Life Vest Classic is available for a small child who is 30 to 50 pounds in weight, an average child who is 50 to 90 pounds in weight, or a large child or adult who is 90 pounds and above. This life vest is available in orange and can be delivered in about five business days from the time of purchase.
Lifeguard Master is often praised for their quick delivery time. Debbie from Hidden Hills, California says, "Lifeguard Master is great! I am so impressed with the quality, pricing and mostly the speed with which I received my order! Thank you so much! I would recommend you to anyone. I am very happy!"
The traditional Life Jacket is a Type III life vest approved by the United States Coast Guard. This life jacket has two adjustable belts and covers the front and the back of the wearer. This life vest comes in three different sizes as well. There are sizes for a small child who is 30 to 50 pounds, an average child who is 50 to 90 pounds, and an adult size that has a 30 inch to 52 inch chest. For more and all the variety of choices, please go to: http://www.lifeguardmaster.com/life-vests-and-life-jackets
Some areas require all patrons to wear some kind of life vest or life jacket depending where someone is around water. Even if life vests or other life saving devices are not required in an area, life vests or life jackets are still a great idea to keep stored somewhere on a boat or worn at all times. The strongest swimmer can easily be taken away by a strong current so having a life vest or life jacket on can easily save someone's life and get the person to safety. For more choices and details on this, please go to: http://lifeguardshirt.com/lifejackets/
Lifeguard Master offers fast shipping and high quality products that are useful for not only lifeguards but also EMT workers, health care workers, and those who work around water. Many products are received within a few days by shoppers at Lifeguard Master since customer service is a top priority for the company.
"Thank you so much for the very speedy delivery! I actually loved the navy blue jacket and my staff were very happy with the blue ones. I will hopefully be ordering a few more in red here soon due to the growing interest of the lifeguards," says Emily, a customer of Lifeguard Master.
Lifeguard Master offers a variety of lifeguard apparel, safety equipment, training equipment, rescue tubes, and CPR tools. The equipment offered by Lifeguard Master is great for ocean beaches, lakes, rivers, and even pools since safety in water is a concern for all areas.
For more information on this affordable new line life jackets or life vests, visit LifeguardMaster.com or click here for more of Lifeguard Master's Life Jackets
Lifeguard Master has been in the emergency and life saving industry for many years. Sammy, the owner and founder of Lifeguard Master has been a lifeguard himself for 7 years. He knows the importance have having all the equipment readily available for a first responder, and through the years has built a quality emergency supply store to accommodate for the anticipating needs of first responders around the country and around the world. Lifeguard Master's determination to excellence and rescue safety has quickly made it a leader in its industry. For more information, please give us a call, send us an e-mail or visit our website. Also to stay updated with the latest news in emergency supplies, please visit our forum where rescue professionals from around the country and world stay connect, and post the latest emergency news at LifeguardsOnline.com.
Sammy
Lifeguard Master
(714) 605-3090
http://LifeguardMaster.com