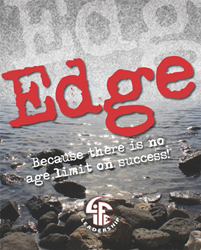 In a world that rarely takes the time to stop and explain how to succeed, Edge puts into words the formula for life-long success!
(PRWEB) August 07, 2014
While LIFE Leadership normally focuses on adults with its numerous programs and materials that teach self-development skills and support personal and professional growth, the organization's founders say they realize that young people can also benefit significantly from teaching and motivation to achieve their goals. "There is no age limit on success or the thinking behind it," says LIFE Leadership cofounder and Edge creator Chris Brady.
Wanting to offer youth within the targeted age range of twelve through eighteen the opportunity to get a head start in life by learning from the experience and wisdom of those who have already "been there and done that," the company released a program called Edge in 2012. Brady says, "As adults, how many of us have had the thought: 'If only I'd known THEN what I know NOW…' The Edge Series is designed to transfer that knowledge to the next generation NOW!"
The company says the Edge Series is a hard-core, no-frills series of audio messages that teach leadership and success principles, promote self-confidence, and encourage drive and motivation. They created the monthly series to give youth timely advice and information on common obstacles they may face as well as true stories of success from famous and fascinating people, including but not limited to entrepreneurs, leadership experts, sports figures, and other youth who have already begun applying the principles taught and achieving certain levels of success for themselves. A subscription to the series costs $10.00 per month.
As an accompaniment to the monthly audio series, LIFE Leadership will be releasing its second book for the youth Edge program, 'Financial Fitness for Teens,' in September. The goal of the book is to teach young people all about the basics of personal finance and make it easy and enjoyable to put the lessons to use in everyday life. Topics covered include the different ways to make money, saving, budgeting, investing, and more.
The first book in the Edge program, entitled simply 'Edge,' was written by 'New York Times' bestselling authors Chris Brady and Orrin Woodward and released in November of 2013. The authors say it offers insight, inspiration, and practical advice for young people in all areas of life based on their personal experience and the lessons they have learned throughout their many years of being engineers, entrepreneurs, husbands, fathers, friends, and Christians. The book also features two popular cartoon characters created by author Chris Brady: Obstaclés, the fiendish antagonist who personifies the obstacles to success that everyone faces, and Rascal, the brave, determined hero figure who strives for excellence and persistently overcomes Obstaclés at every turn. The authors also encourage readers to challenge themselves to "Find Obstaclés" hiding throughout the pages of the book (much like playing "Where's Waldo?" created by British illustrator Martin Handford) as an entertaining way to solidify the lessons taught in their minds and receive encouragement to face any annoying, real-life obstacles to success.
The company anticipates releasing more books for teens in the coming months. The owners say that the Edge books and the monthly Edge Series, in conjunction together, aim to provide life-changing information to help young people develop a keen eye and the good sense to easily spot and overcome obstacles to success. The ongoing monthly audio series is designed to help subscribers break the principles and lessons taught in the books into small chunks and dig deep into the thought-provoking information and ideas so they can easily assimilate and implement the material and create permanent habits that lead to success.
Entrepreneurs Marc and Kristine Militello, customers and fans of the Edge products, say the Edge Series has helped their kids build "a foundation they can follow for the rest of their lives." As an example of how the materials have impacted their children's lives, Kristine said, "Our daughter joined a new softball team this winter—mid season. The coach told us, 'Our entire team changed when your daughter joined. We needed a leader, and that is what she is.'" Marc says, "In a world that rarely takes the time to stop and explain how to succeed, Edge puts into words the formula for life-long success!"
The LIFE Leadership founders and creators of Edge say they realize that "LIFE Leadership is nearly alone in providing character-based leadership development for youth," so they designed their unique Edge program to give youth the chance to start learning valuable life lessons ahead of the pack because they know "it's never too early to get an Edge." The message they would like to get out there to youth today is: "No one else can be who you are or do what you do. All your dreams deserve your best efforts, so get Edge and get a head start on accomplishing them!"
About the Edge Series and Books:
LIFE Leadership offers the Edge products, including a monthly audio subscription program and books by 'New York Times' bestselling authors Chris Brady and Orrin Woodward as well as other models of leadership in action, to today's youth to help them make a difference in their lives at the earliest possible point. Brady and Woodward hope to use the life-changing and thought-provoking information in these books and audios to help young people get an Edge on life and start working toward their dreams now.