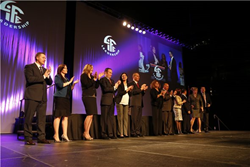 Our privileges are not for our pleasure but for our purpose.
Columbus, Ohio (PRWEB) June 18, 2014
Founded by New York Times bestselling authors Orrin Woodward and Chris Brady along with other bestselling authors and leadership experts, LIFE Leadership is designed to provide superior leadership and personal development training to individuals who are ready to commit to a lifestyle of self-challenge and ultimate success. Its training system and products, the cornerstone of which is its subscription series, offer participants a chance to learn the newest and most stimulating ideas and methods along with tried-and-true principles to turbo-charge success in business and all areas of life. Featured are teachings on every topic necessary to live a life of leadership, success, and fulfillment, including Family, Finances, Fitness, Faith, Following, Freedom, Friends, and Fun. Many students say that the LIFE Leadership materials and events uplift and inspire them with passion and motivation to take their lives to the next level and to bond with their communities in a way they have never done before.
Now, LIFE Leadership is holding an exclusive convention in Columbus, Ohio, from June 20 to 22, 2014, specifically designed to offer attendees an unforgettable weekend of training, inspiration, and fun.
These leadership conventions always deliver an unforgettable weekend. Full of inspiration, cheering, and teaching, they feature top industry leaders who share their own insights and knowledge to help those who want to take their businesses and lives to the next level. Leadership, personal, and business development are just a few of the topics covered at the incredible LIFE Leadership conventions.
Anyone wanting to attend should make reservations immediately, as area hotels are filling up quickly in anticipation of this exciting event. The speakers and programs will give all who are present new concepts and ways to improve their leadership capabilities, no matter what type of job they do or what area of life they would like to make a difference in. LIFE Leadership has a program and a method to increase achievement and grow leadership skills that will be of use in every situation.
About LIFE Leadership:
Everyone is given leadership opportunities in life, and being prepared when they arise is important. LIFE Leadership has been launched with the purpose of providing educational materials and training events for those who want to accelerate their leadership capabilities and improve every area of life, such as entrepreneurs, administrators, business executives, public servants, church leaders, community service leaders, spouses, and parents. For more information, see http://www.lifeleadership.com/membership/.