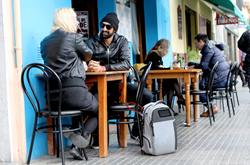 Now users can charge their devices on the go and keep the power topped up whenever they are in sunlight or a room with good ambient daylight.
VANCOUVER, CANADA (PRWEB) April 14, 2016
Adrian Solgaard is a 29-year-old entrepreneur from Vancouver seeking to reinvent the mobile office. After his girlfriend's backpack was stolen while abroad, Solgaard decided to create Lifepack, the ultimate backpack for commuters and travelers. Lifepack has already raised more than $355K via Kickstarter.
"When designing a product, it's best to have someone specific in mind for who it will suit," Solgaard said. "Over the years I've learned that developing a product with other individuals in mind is a great way to ensure it's useful for people other than myself."
The high-tech backpack offers 10 handy features for consumers including a Solarbank, this includes a USB charging battery, Bluetooth Speakers, and a Solar Panel. The Solarbank can charge any USB device, including an iPhone 6, which can charge up to 12 times. Lifepack also has an integrated lock and an organized storage system.
In addition to the high-tech components, Solgaard and his team put a lot of thought into Lifepack's design features. The team implemented internal protective air cells to offer drop-resistant storage for larger devices like laptops and iPads. In addition, Lifepack is designed with a water resistant material to help repel moisture and protect electronics.
Solgaard had the idea for a locking bag when he was 18-years-old backpacking around Europe. Fast forward to 10 years and introduce smart phones; "Our phones were always dying and we needed a charger with enough juice to hold a charge for several days," Solgaard said. "That's how I came up with the Solarbank. Now users can charge their devices on the go and keep the power topped up whenever they are in sunlight or a room with good ambient daylight."
Solgaard and his team have announced several stretch goals as they continue to surpass each stretch goal. Their original funding goal was $20K. Stretch goals have included an extra charging cable, RFID blocking hidden pockets, a waterproof cover and, the most popular, the Stealth Black Edition Lifepack. The team has now raised over $355K thanks to over 2,270 backers.
Lifepack is available on Kickstarter starting at $149, which is $100 off the projected retail price of $249. Solgaard and his team have also decided to offer a "Young Guns Student Deal" where individuals with a valid high school, college or university student ID may purchase a Lifepack for $125. For more information on Lifepack, visit their campaign at bit.ly/Lifepack_KS.
About Solgaard Design
Solgaard Design launched its first crowdfunding campaign, The InterLock, on Kickstarter in 2013. After a friend had her backpack stolen from a café, Solgaard Design CEO Adrian Solgaard conceptualized, developed and prototyped Lifepack for consumers with a busy, on the go lifestyle. For more information on Solgaard Design and Lifepack, visit bit.ly/Lifepack_KS.