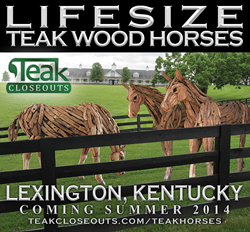 Affordable life-size teak horses starting at $2500.
Lexington, Kentucky (PRWEB) May 29, 2014
Starting July 1st, 2014, Teak Closeouts will feature 40 teak scrap horses in their new location at 359 Thompson Road (formerly 1211 Manchester Street). The collection of 40 wood horses is one of the largest ever-assembled displays in the USA. All horses are available for purchase starting at $1900 for the foals to $2900 for the slightly more difficult running poses.
The lifesize teak horses are an affordable option compared to the "finer art" driftwood horses sold by Deborah Butterfield (US), Heather Jansch (UK), and Abdul Ghofur (IDN). Each driftwood/metal horse artist has their own unique flair with horses selling in the $10-100k range. The horses offered by Teak Closeouts are less conceptual in nature and highlight a fully formed body structure using teak scraps versus longer driftwood pieces.
"Teak Closeouts has always been about saving the customer money and offering solid middle-grade teak at affordable prices," said Ryan Pleasants. "These horses are no different. We have the best teak scrap horse designs on the market and a great affordable alternative to the higher priced horses. Most import scrap animals are grossly misrepresented and sometimes sell in the $4-5k range. We are almost 50% less, but more importantly, we have solid designs."
The horses will compliment Teak Closeouts new line of teak root furniture and teak root primitives. Currently, there is a single horse displayed at the new location in Lexington.
The use of teak for the wood species makes the horses ideal for outdoor displays at farms, racetracks, equine events, rodeos, stables, and any horse themed gathering.
Currently, the horses are not available for shipping and must be picked-up in Lexington only. The horses can be lifted and loaded into vans. There is a quantity discount starting at only two horses for people looking to create scenes. The sizes of the horses are 14 hands with 15 and 16 hands arriving by early fall.
A small selection of horses will also be available for rental use in the local market. The horses make an ideal upscale party display or wedding prop. Rental details will follow later in the year.
More information on the teak horses can be found here – TeakCloseouts.com/teakhorses.
Company Information
Teak Closeouts, started in 2008, is a small independent website devoted to the acquisition of excess, bankrupt, canceled orders, or otherwise reduced teak furniture stock. Teak Closeouts owns and operates a warehouse in Indonesia where they collect, clean, and repackage most of the items offered on the website. All product ships to the Lexington, Kentucky store and is distributed from this location.
In general, customers can expect to save 30%-70% off their original price. Teak Closeouts prides itself on quality teak that every person can afford. The most popular products sold include teak benches, teak armchairs, teak dining tables, and backless benches. In addition to saving money, Teak Closeouts also has an eye for finding some of the most desirable and attractive patio furniture designs on the market.
The website is simple and easy to navigate while also offering a one-page checkout. Most product pictures are taken in the Indonesian warehouse and all pictures feature visual dimensions for a more realistic and easier concept. The customer can easily identify the product they desire, checkout, and finish within 5 minutes.
Teak Closeouts offers a 30-day 100% money-back guarantee and an easy one-price fixed shipping rate for the 48 continental states. Shipping is typically within 48 hours and arrives within 2-5 days.