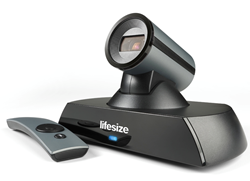 The systems ship with either the Lifesize Phone or Lifesize MicPod, providing high-quality audio performance.
Oak Creek, WI (PRWEB) January 14, 2015
Video Conferencing Supply is announcing the brand new Lifesize Icon 400 and Lifesize Icon Flex. Bring HD video and audio conferencing to any small meeting room or workgroup with these standout solutions for remote collaboration and communication.
Both the Lifesize Icon 400 and the Lifesize Icon Flex are designed with an easy-to-use interface. Once the systems are installed, users can simply click on a contact in the directory to create and join calls, or use the menu to quickly access call recording and other essential features.
Additional features include an embedded PTZ camera and mounting options. Set up the system at the front of the room and mount it to save space. The systems ship with either the Lifesize Phone or Lifesize MicPod, providing high-quality audio performance.
The Lifesize Icon 400 video conferencing system:

Two HDMI ports (one input, one output)
Ready for Lifesize Cloud and Infrastructure applications
Supports H.264, G.711 and other standards
Interoperable with SIP and H.323 networks
Manageable via web interface, USB and other formats
Lifesize Icon 400 behaves like a traditional, premise-based video conferencing system. It's purpose-built for small meetings in offices or huddle spaces, providing a business-class conferencing solution.
The Lifesize Icon Flex video conferencing system:
Requires a PC or laptop with a USB 2.0 port
Compatible with Windows 8 and up
And compatible with Mac OS X 10.8 and up
Includes USB, Lifesize Link and Ethernet ports
Ready for third-party video conferencing applications
Lifesize Icon Flex is designed for video conferencing applications based on a computer or laptop. The system connects to the USB port on the device and transforms any meeting space into a video collaboration experience. The perfect solution for businesses deploying Cisco Jabber, Google Hangouts, Lifesize Cloud, Microsoft Lync or Skype.
Video Conferencing Supply is the foremost online source for collaboration and visual communications technology. Video conferencing is expected to be the go-to means of communication in 2015. Get a head start on the year and visit Video Conferencing Supply today: http://www.videoconferencingsupply.com.
About Video Conferencing Supply
Video Conferencing Supply's mission is to deliver affordable video conferencing solutions to businesses and organizations in every industry. From audio equipment and displays, to premise- and cloud-based conferencing systems, Video Conferencing Supply carries it all.