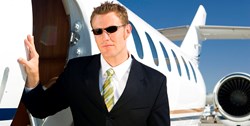 Having a great Lifestyle Manager saves VIPs time and money.
Los Angeles, Calif (PRWEB) February 06, 2014
Billionaires, high net worth families, athletes, best-selling authors and celebrities now have access to the best of the best personal assistants because the 'Elite Service Provider Network' (FindCelebrityServices.com) has added PAs to their list of Lifestyle Management services.
With the explosion of the super-rich in the United States, more and more families are reaching out to celebrity concierge services and hiring lifestyle managers to cater to their every whim.
"The demand is overwhelming," says Brian Daniel, founder of The Celebrity Personal Assistant Network. "There are about 50,000 households in the US that have between 50 and 500 million dollars in net worth. And there are about 10 million millionaires – and that doesn't even count the 1000-plus billionaires." In short, this new gilded age of high-profile families need the best of the best service providers to meet their needs.
Since the Elite Service Provider Network has added personal assistants to their roster, CEOs, hedge fund managers, billionaires and other celebrity types of high-profile personalities can get the best in calendar management, vacation planning, maintenance of exotic car fleets, estate management and the hiring of domestic staff.
"Basically, a lifestyle manager is going to take charge of every single detail of the Principal's life," says Daniel. "No stone is left unturned, and no aspect of the VIP's life goes untouched. It's the best of the best in personal services. It's a job that traditional executive assistants aren't capable of doing because this cottage industry of celebrity concierges is very special."
ABOUT THE COMPANY
The Elite Service Provider Network is founded by a group of veteran celebrity assistants from a variety of fields: entertainment, finance, travel and philanthropy. As professional lifestyle managers, the staff vets service providers before they can be inducted into the network. Vendors and clients alike may only become a part of the network by invitation only.
Currently, the network provides services in every corner of the world including Asia, The Middle East, Europe and the United States: Los Angeles, Las Vegas, Chicago, New York City and Miami. For a complete list of cities and services, visit http://www.FindCelebrityServices.com.