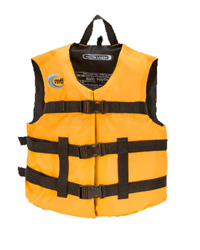 The most effective life jackets out there
Los Agneles, CA (PRWEB) October 22, 2014
When it comes to a person's safety, compromise is not an option. Life vests and life jackets can help those who are both beginner and advanced swimmers. Since bodies of water, including swimming pools, can be dangerous for those of all skill levels, it is important to have a reliable and safe life jacket or life vest available when needed. Lifeguard Master, has recently upgraded their line of life vests and life jackets for optimum safety and security.
Life jackets and life vests are extremely useful on boats or other sort of water craft such as kayaks, canoes, or even inflatable devices. When in a river, lake, or ocean, currents can easily pull swimmers and other patrons under making it extremely important to have a life saving device that can raise the person to the top of the water so they do not drown.
Lifeguard Master offers a variety of life vests and life jackets in their line. This includes a classic life vest and four different variations of a life jacket. A life vest simply goes over the person's head to rest around the neck and front of the chest. A life vest clasps in the front and goes around the chest to the back and up the shoulders.
The classic life vest offered by Lifeguard Master is a Type II Standard US Coast Guard approved yoke vest. This life vest is a great economical option for those in large groups such as summer camp grounds or organizations. On the classic life vest, there is a belt and a quick release buckle that wraps around the person wearing the vest. This life vest offered by Lifeguard Master is available in three sizes; small child, average child, and large child or adult. By the life vest being a bright orange color, the patron of the water will be easily seen if weather or darkness succumbed to the environment.
The standard life jacket is also available in a bright orange color and is a Type III US Coast Guard approved vest with two adjustable belts for a snug fit. Available in three sizes, this life jacket comes in a size for persons between 30 and 50 pounds, for a person between 50 and 90 pounds, or a standard universal adult size with a 30 inch to 52 inch chest measurement.
The Life Jacket 2 offered by Lifeguard Master is also a Type III US Coast Guard approved vest and also an approved Personal Floatation Device (PFD). This jacket is made of nylon oxford fabric with two adjustable belts for a snug and secure fit. Available in red and blue, this life jacket offers soft foam contours so the vest does not hinder a person's mobility. The open-sided styling means this vest is easily adjustable for a range of different sizes. Large armholes on the side of the vest allow for greater range of motion, which is a nice feature when operating machinery.
The Life Jacket 3 from Lifeguard Master is especially useful for those with children between 50 to 90 pounds. A Type III US Coast Guard certified vest, this mango-colored life jacket is bright for easy visibility. Three adjustable front buckles give a child a secure fit that is great for outdoor sports.
The last life jacket of the line, the Life Jacket 4, is available in a vibrant red and is constructed of nylon oxford fabric with two adjustable belts for a great fit. The soft foam contours to the wearer's body so mobility is not sacrificed for safety. Large armholes allow the user to have a great range of motion. As a Type III US Coast Guard approved life jacket, this life jacket offers a great sense of security while out on the water.
When it comes to a person's safety in the water, there is nothing more important. Water sports and water activities can be fun when done correctly and with caution. For this reason, Lifeguard Master spent quality time researching the best life vests and life jackets at an affordable cost without compromising safety. For more information and a video on selecting a life jacket, please click on: Selection the right life jacket for you
Lifeguard Master has been in the emergency and life saving industry for many years. Sammy, the owner and founder of Lifeguard Master has been a lifeguard himself for 7 years. He knows the importance have having all the equipment readily available for a first responder, and through the years has built a quality emergency supply store to accommodate for the anticipating needs of first responders around the country and around the world. Lifeguard Master's determination to excellence and rescue safety has quickly made it a leader in its industry. For more information, please give us a call, send us an e-mail or visit our website. Also to stay updated with the latest news in emergency supplies, please visit our forum where rescue professionals from around the country and world stay connect, and post the latest emergency news at LifeguardsOnline.com.
Sammy
Lifeguard Master
(714) 605-3090
http://LifeguardMaster.com