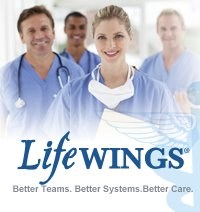 I can draw a direct line between the CRM skills we learned in LifeWings training and the elimination of surgical errors—retained foreign objects. There is no doubt in my mind that those tools were the catalyst.
Collierville, TN (PRWEB) July 26, 2013
In March 2010, President Obama signed comprehensive health reform, the Patient Protection and Affordable Care Act (ACA), into law. There are a myriad of changes that hospitals will experience as a result of the ACA. Common themes in all of these reforms are accountability, efficiency, and quality. LifeWings has created a plan to help hospitals stay profitable by providing excellent care to the patient and ultimately earning the highest patient safety satisfaction scores.
In a hospital setting, a total safety transformation is much more than a simple training or process improvement seminar. There must be a transformation of the entire service culture system of significant, sustainable improvements and that is what the Crew Resource Management process is designed to provide. The LifeWings team has helped providers nationally improve service delivery, patient survey scores, communication openess, and staff satisfaction. Providers that employ the methods of the LifeWings programs also reduce operating costs, procedure interruptions, and errors that can lead to malpractice and loss of reimbursement. Hospital leadership needs to make cultural changes that are measurable, quick to implement, and most importantly sustainable.
LifeWings has a step-by-step four-phase plan for permanent safety culture change.
The first phase of LifeWings plan is to train physician champions, partners, and hospital leadership on the roles, responsibilities, and actions needed to create permanent organizational behavior change. Next, LifeWings customizes the program using direct observational studies of the current level of teamwork, communication, and process standardization. This accomplishes the critical task of having a baseline to help measure the program's success.
The second phase of the transformation involves teamwork skills workshops. During this phase, participants learn to engage staff as resources to recognize red flags, prevent errors, and to speak up if they are concerned about a patient's safety in any situation.
During the third phase, LifeWings works with front line physicians and medical staff to create standardized processes like checklists, communication scripting, handoffs, huddles, and debriefing protocols. The purpose of these safety tools is to hardwire teamwork behaviors into the daily standard of care.
The fourth phase of the transformation includes comprehensive data collection and analysis. This enables the team to measure, document, and publicize program results.
Dr. David E. Pitcher, MD, FACS Chief Medical Officer of University of New Mexico Hospitals, Professor of Surgery had this to say about LifeWings after implementing the LifeWings training process, "I can draw a direct line between the CRM skills we learned in LifeWings training and the elimination of surgical errors (RFO). There is no doubt in my mind that those tools were the catalyst."
LifeWings offers a "guarantee" for their training. Steve Harden, LifeWings CEO, says, "Using this approach, we are so sure that your organization will reach your goals that we offer this guarantee: If you do not realize the desired results at the end of the Project, and if you have implemented all of the recommended Hardwired Safety Tools, we will continue to work with you, at no additional cost, until those results are achieved."
For specific examples of clients and results after implementing the LifeWings process, you can visit http://www.saferpatients.com.
About LifeWings:
LifeWings Partners creates documented, sustainable improvements in cost reduction, efficiency, reliability, safety, and quality by combining the best of Lean and TeamSTEPPS. LifeWings has improved the financial bottom line and patient safety record of over 140 hospitals worldwide. The LifeWings coaching cadre of pilots, astronauts, physicians, nurses and Toyota-trained Lean experts train more than 13,000 administrators, physicians and staff per year. Measurable results are guaranteed in all LifeWings' initiatives. Documented return on investment typically exceeds 300 percent. To find out more, please visit http://www.saferpatients.com or https://www.facebook.com/LifeWingsSaferPatients.
Watch video at http://www.youtube.com/watch?v=LV_M0zIuan8.