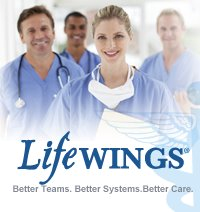 ...stock checklists, implemented without customization to create buy-in, training to change culture, and leadership persistence over many months, will result in failure.
Collierville, TN (PRWEB) March 20, 2014
The New England Journal of Medicine just published a new study declaring that surgical checklists had no effect on patient mortality. Hospital leaders everywhere, who have spent millions of dollars and countless hours implementing safe surgery checklists now wonder if their investment in this safety tool was wasted. LifeWings, a patient safety consulting firm, answers that question with a "No," but only if they avoided the mistakes made by the hospitals in the study.
When healthcare providers began implementing the aviation practice of safety checklists, the idea was that surgeons, like pilots, could reduce the risk of fatal complications by following checklist protocols in surgery. Although this practice is widely valued, the latest results from a Canadian study reveal why just having checklists is not enough to save lives; leaders must pay attention to the quality of the checklists and the culture of the teams that use them.
Surgeons and others from Toronto's University Health Network recently published a significant study on mandatory surgical checklist use in the New England Journal of Medicine. In the study, data was collected on deaths and surgical complications before and after checklists were introduced. The study's authors couldn't attribute to the checklists a measurable improvement in the mortality and complication data.
Steve Harden, CEO of LifeWings says he is "…not surprised an article like this was published. We've known for a long time that checklists don't work without extensive training, especially teamwork training for the surgical teams that use the checklist. The hospitals in the study made some of the classic mistakes in how they implemented the checklist." Harden provides four checklist blunders for hospitals to avoid:
1. Mandating the checklist without buy-in from the teams that use them.
One of the study's authors, Dr. Urbach said, " It's one thing if hospitals develop these things on their own, where people are motivated and engaged. That can transform a culture and make it more safety-conscious. If it is mandated, it may not achieve the same result."
2. Implementing a checklist without extensive training on how to use it.
Atul Gawande, a surgeon at Brigham and Women's Hospital and a Professor in the Department of Health Policy and Management at the Harvard School of Public Health and Professor of Surgery at Harvard Medical School, as reported in the New England Journal of Medicine and his book The Checklist Manifesto, said checklists are nearly useless if not hammered home with extensive training,
Pete Caulk, a safety coach and checklist expert with LifeWings, agrees with Dr. Gawande, saying, "I worked with surgery centers in the U.S. and found that the nurses were filling out their safety checklist while the patient was still in pre-op and never looked at it again – even after the patient arrived in the OR. In a way, you can't blame them, they never had any training on how to use it, and each nurse developed their own methodology on what to do with it. The physicians were shocked, and more than a little angry. Without proper training, checklists will not work."
3. Implementing a checklist without teamwork training for the teams that use the checklist.
Dr. Urbach stated in the study that training and teamwork were critical, "…it's not as easy as a checklist." No matter how good the checklist, ultimately it is human beings that use them and humans make mistakes. Without training that addresses culture and prepares surgical teams to crosscheck one another and speak up if they see a problem with the checklist, no checklist program will ever be successful.
4. Expecting a quick fix from a checklist.
Dr. Gawande says that the effect of a successful checklist initiative "…takes longer than three months to show up." The hugely effective checklist program in Michigan hospitals designed to prevent blood stream infections required over nine months to see significant improvements.
"Ultimately," says Steve Harden, "stock checklists, implemented without customization to create buy-in, training to change culture, and leadership persistence over many months, will result in failure."
About LifeWings:
LifeWings Partners, LLC is a team of physicians, nurses, Toyota-trained Lean experts, health risk managers, astronauts, military surgeons, and flight crews. In 2005 we pioneered the successful adaptation of best practices from high-reliability organizations such as aviation and nuclear energy, to healthcare. We have partnered with more than 110 leading healthcare organizations and have helped them achieve dramatic, sustainable, and measurable improvements in safety and profitability.