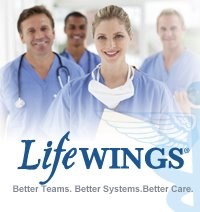 I can draw a direct line between the skills we learned in training with LifeWings and the elimination of surgical errors. There is no doubt in my mind that those tools were the catalyst.
(PRWEB) November 11, 2013
The nation's largest inspector of hospital safety and quality, The Joint Commission, reports that sixty serious surgical mistakes were reported in the first half of 2013. Surgical mistakes included performing surgeries on the wrong patient, on the correct patient but the wrong site on the body, and the correct patient and site, but the wrong procedure. The next most common mistake was also related to surgery – leaving a foreign object, such as a sponge or needle, in the patient after a procedure. Distraction, fatigue, and communication errors were the most cited reasons for the mistakes.
LifeWings, a team of physicians, nurses, pilots, and astronauts, offers three proven steps to prevent these mistakes. These essential mistake-stopping techniques have been implemented by LifeWings in over 140 healthcare facilities around the world, including Rush University Medical Center, Ohio State Wexner Medical, Memorial Healthcare, Vassar Brothers Medical, Wake Forest Baptist Health, Miami Children's Hospital, Vanderbilt University Medical, and University of New Mexico Hospitals.
Step 1: Create a culture of accountability through stop-the-line training with TeamSTEPPS. Provide inter-disciplinary training on how to speak up; Ensure your teams train as teams; Adopt and publish a 'Zero Tolerance' policy for "payback"; Embed assertiveness training in your new-hire training and mentoring/precepting programs; Revise your P&P Manuals with clear and unambiguous directives requiring the use of stop-the-line language; Celebrate loudly and often those nurses who speak up and stop the line to protect a patient's safety or quality of care.
Step 2: Implement the World Health Organization Safe Surgery Checklist. http://www.who.int/patientsafety/safesurgery/tools_resources/SSSL_Checklist_finalJun08.pdf. A surgical checklist is not a glorified grocery list or an audit tool, and doing a timeout with with a checklist will not fix the communication problems that lead to wrong surgeries. A properly formatted and executed checklist is a scripted conversation among the surgical team about the upcoming procedure. The checklist should be created by the team that will be using it, led by the surgeon.
Step 3. Implement leadership safety rounding. Get executive and senior leaders out of their offices and on to the floor to do 21 days of Leadership Rounds. During their Rounds, they will ask front line staff they encounter a series of four or five questions about your initiative or project. Their presence and interest will jumpstart the energy in the project. Leadership should meet at the end of the 21 days and compare notes to detect trends and issues that need to be addressed, and then address them.
Dr. David E. Pitcher, MD, FACS Chief Medical Officer of UNM Hospitals says, "I can draw a direct line between the skills we learned in training with LifeWings and the elimination of surgical errors. There is no doubt in my mind that those tools were the catalyst." The tools directly target distraction, fatigue, and communication errors, the most cited reasons for the mistakes reported by the Joint Commission.
About LifeWings Partners LLC:
LifeWings has documented sustainable improvements in reliability, safety, and quality by implementing these three steps. The LifeWings coaching cadre of pilots, astronauts, physicians, nurses and Toyota-trained Lean experts train more than 13,000 administrators, physicians and staff per year. Measurable results are guaranteed in all LifeWings' programs. Documented return on investment typically exceeds 300%. To find out more, please visit http://www.saferpatients.com or https://www.facebook.com/LifeWingsSaferPatients or follow us on Twitter @LifeWingsLLC.