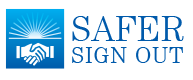 LifeWings has an incredible offer to hospitals interested in these two patient safety tools and we are committed to getting them implemented across the country.
Collierville, TN (PRWEB) October 13, 2013
Teamwork between departments is persistently one of the lowest-rated areas in the AHRQ Safety Climate Survey. Silos and their barrier to inter-departmental collaboration are one of the most common complaints from healthcare managers. Handoffs between caregivers have been called "the most dangerous part of a hospital visit."
LifeWings is addressing all of these issues with two of the most effective patient safety tools introduced in the healthcare industry to date.
1. SOS (Sign Out Software)
This is a new HIPAA compliant software program from Kolkin Corp. that can be downloaded in less than three minutes onto any computer inside the firewall at your facility - without IT support! It's as easy as loading an app on your phone. Once installed, clinicians can use their own smart phone or tablet and the power of social media (think Google Docs and Facebook for simultaneous sharing and posting - only encrypted for HIPAA compliance) to share limited patient information critical to error-free handoffs.
It has auto-complete and auto-correct using ICD-10 codes, and allows for clinician-to-clinician handoffs, or clinical team-to-clinical team transfers between services. It takes about 10 minutes to figure out how to use it, and total department adoption typically takes 48 hours or less. It is so easy to use and so effective because the program was developed by a surgeon and a technical genius from Google. The basic version for a single user without inter-connectivity is absolutely free and can be downloaded here. The "Pro" version with inside-the-firewall Wi-Fi or internet connectivity (nothing is ever transmitted to the "cloud") is available for a small user license fee that is good for a LIFETIME. A typical surgical services department can be equipped for around $2000.
If a hospital wants to stop handoff mistakes and critical information falling through the cracks, this is the device that will provide the solution with simplicity and effectiveness.
Upload SSO https://www.kolkin.com/.
2. SSO (Safer Sign Out)
This tool, from the Emergency Medicine Patient Safety Foundation (EMPSF) is best described as a paper version of the SOS software designed just for emergency medicine clinicians. Created by an emergency medicine physician and extensively tested in multiple emergency rooms, this tool will delight your ER staff with easy and time efficient comprehensive patient handoffs.
Pilot studies have shown that emergency departments using this tool have:

Higher Physician Satisfaction
Lower Reported Serious Harm
Better ER Nurse/Team-Communication
Fewer Delays in Care
Fewer Lapses in Care
This mistake-stopping tool and all implementation training materials and videos are available at no charge from EMPSF. But EMPSF will soon be charging a fee for the training materials (although the SSO tool itself will remain cost-free.) On-site implementation training and coaching is available from EMPSF for a reasonable fee.
"LifeWings has an incredible offer to hospitals interested in these two patient safety tools and we are committed to getting them implemented across the country," says, Steve Harden, CEO of LIfeWings. Click this link for details: http://www.saferpatients.com/sep2013newsletter.htm.
About LifeWings:
LifeWings Partners creates documented, sustainable improvements in cost reduction, efficiency, reliability, safety, and quality by combining the best of Lean and TeamSTEPPS. LifeWings has improved the financial bottom line and patient safety record of over 140 hospitals worldwide. The LifeWings coaching cadre of pilots, astronauts, physicians, nurses and Toyota-trained Lean experts train more than 13,000 administrators, physicians and staff per year. Measurable results are guaranteed in all LifeWings' initiatives. Documented return on investment typically exceeds 300%. To find out more, please visit http://www.saferpatients.com or https://www.facebook.com/LifeWingsSaferPatients or follow us on Twitter @LifeWingsLLC.