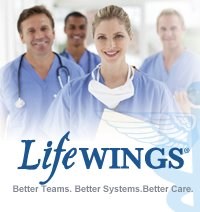 Collierville, Tennessee (PRWEB) November 25, 2013
The latest round of scores that measure rates of errors and infections, indicators of safe practices, shows an increase in the number of hospitals that earned the lowest score. Leapfrog's CEO Leah Binder calls that "a troubling trend." Recently, the Leapfrog Group released its fourth safety report card for general acute care hospitals noting that overall, there has been very little improvement in how well providers are preventing patient harm.
The new research from the Journal of Patient Safety, a peer-reviewed journal, estimates that as many as 440,000 Americans are dying annually from these preventable errors. And so that puts medical errors as the number three cause of death in the United States.
The Solution: LifeWings Partners LLC
LifeWings, a patient safety consulting firm, has had consistent, documented success helping clients achieve their process improvement goals. The programs are designed to provide optimal ROI and measurable, demonstrable, sustainable results-- while ultimately protecting the patient and saving lives.
The bottom line is that hospitals want to protect their patients and provide them with the safest care possible, but many hospitals are falling short of that goal. In a complex system with intense demands, LifeWings specializes in training teams to work together to create the safest environment possible.
Review the following leading hospital's documented successes after the implementation of LifeWing's methodologies in their facilities with their teams:

LifeWings services keep evolving to ensure dramatic results at hospitals nationwide.
LifeWings pioneered the use of aviation-based safety tools to improve patient safety in 2001. With these proven tools they have facilitated remarkable, life-saving results. LifeWings continuously update their methodology and approaches to offer hospitals nationwide a comprehensive suite of services that reflect the latest research on how to improve the quality of healthcare.
About LifeWings:
LifeWings Partners creates documented, sustainable improvements in cost reduction, efficiency, reliability, safety, and quality by combining the best of Lean and TeamSTEPPS. LifeWings has improved the financial bottom line and patient safety record of over 140 hospitals worldwide. The LifeWings coaching cadre of pilots, astronauts, physicians, nurses and Toyota-trained Lean experts train more than 13,000 administrators, physicians and staff per year. Measurable results are guaranteed in all LifeWings' initiatives. Documented return on investment typically exceeds 300%. To find out more, please visit http://www.saferpatients.com or https://www.facebook.com/LifeWingsSaferPatients or follow us on Twitter @LifeWingsLLC.