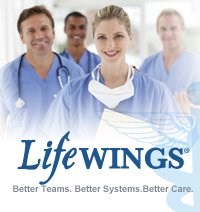 Conduct refresher training, share data, conduct new hire training, conduct leadership rounding blitz to maintain sustainability of TeamSTEPPS programs.
(PRWEB) November 07, 2013
Count all the number of ongoing improvement projects or initiatives in your healthcare organization. TeamSTEPPS, SCIP, CAUTI, CLABSI, VAP, Readmissions, Lean, Six Sigma, throughput, patient satisfaction, ACO, patient experience, safety, capital expansion...and on and on.
Steve Harden, CEO of LifeWings says, "I am also willing to wager that there is some extent of resistance for all of these projects, continually fighting the attitude from staff that any one of these initiatives is just the 'next flavor of the month.' There is a strong possibility that there will be slippage and drift; that management will turn their attention to a new program soon, and that all that effort, time, and money invested in your initiative will evaporate over time." In short, investment in results can seem perishable.
One question many healthcare organizations have before investing in LifeWings Patient Safety Methods is how to overcome drift and how to maintain sustainability of their TeamSTEPPS program. Capt. Harden offers four quick tips and a comprehensive "mind map" of all the activities needed to sustain any project in healthcare.
Tip 1: Conduct refresher training.
Research is clear in high reliability organizations that skills atrophy can set in when not used and emphasized. In commercial aviation, refresher training, including training in teamwork and communication skills, is mandated every nine to eighteen months. The time period is determined by data collection. For TeamSTEPPS, your data - Safety Climate Surveys, direct observational studies, error reporting, RCAs, incident reports - will determine which TeamSTEPPS skills need to be refreshed. Refresher training can be accomplished in as little as five minutes and as much as 45 minutes.
Tip 2: Share data.
The data collected and used to describe the health and success of the organizations initiative should be very publicly and visibly shared with all front line staff by being:
Posted on large data boards in common work areas
Discussed in shift briefings
Highlighted in departmental meetings
Sent via email
Celebrated, sometimes with cake and refreshments.
Tip 3: Conduct new hire training.
An average hospital, with average turnover, will hire almost 15 new staff members in a year for every 100 folks in the department. If the new-hire training doesn't look like the training current staff received when the initiative first started, in just a few years a significant portion of the staff will not have the skills needed for success.
If TeamSTEPPS was implemented two years ago, how can there be great teamwork and communication behavior if 30% of your staff (new hires) have never been trained in TeamSTEPPS?
Tip 4: Conduct a leadership rounding blitz.
Get the executive and senior leaders out of their offices and on to the floor to do 21 days of Leadership Rounds. During their Rounds they will ask front line staff they encounter a series of four or five questions about the initiative or project. Their presence and interest will jumpstart the energy in the project. Leadership should meet at the end of the 21 days and compare notes to detect trends and issues that need to be addressed, and then address them.
Finally, here is a link to a mind map I prepared of the all the activities that contribute to the sustainability of any improvement project in healthcare. This one was prepared with TeamSTEPPS in mind, but the principles are the same for any initiative.
By using these tools you will ensure you never invest in perishable results.
About LifeWings Partners LLC:
LifeWings Partners creates documented, sustainable improvements in cost reduction, efficiency, reliability, safety, and quality by combining the best of Lean and TeamSTEPPS. LifeWings has improved the financial bottom line and patient safety record of over 140 hospitals worldwide. The LifeWings coaching cadre of pilots, astronauts, physicians, nurses and Toyota-trained Lean experts train more than 13,000 administrators, physicians and staff per year. Measurable results are guaranteed in all LifeWings' initiatives. Documented return on investment typically exceeds 300%. To find out more, please visit http://www.saferpatients.com or https://www.facebook.com/LifeWingsSaferPatients or follow us on Twitter @LifeWingsLLC.