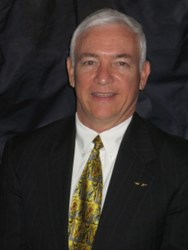 The TSW classes are highly informative, but the HST workshops are fundamentally transformative. Here, the real work of process change occurs where cultural and behavioral improvements benefit both the staff and the patient."
(PRWEB) December 16, 2013
In 2012, LifeWings, a patient safety consulting firm, began an extensive program with Easter Maine Medical Center(EMMC). LifeWings Safety Coach, Alan Price, a U.S. Air Force Command pilot and retired Lt. Colonel, worked with EMMC and says, " I am passionate about the processes we developed in the airline industry, and now have adapted to the healthcare environment. The process is not complicated but it is not easy. Commitment is the key word, and if one is committed, amazing things are possible for both the patient, and staff."
Hospital leaders at EMMC chose the Operating Room as the first department to begin the LifeWings process. Beginning in the summer of 2012, a 3-day Leadership Development Institute (LDI) introduced over 50 EMMC senior staff and OR leaders to the LifeWings process. Team Skills Workshop (TSW) that equip teams with skills to detect, trap, and correct potential errors followed during which over 750 OR staff and leadership participated.
In October, the first Hardwired Safety Tools (HST) workshop that provide the tools to ensure effective team behaviors and create permanent change was held for the Main OR. To date, there have been six of these workshops for OR related departments. (Cath Lab, Endo, Eye Center, Labor and Delivery, and PACU.) Mr. Price adds " The TSW classes are highly informative, but the HST workshops are fundamentally transformative. Here, the real work of process change occurs where cultural and behavioral improvements benefit both the staff and the patient."
At EMMC, these Hardwire Safety Tool Workshops(HST) workshops have developed over 30 new tools presently implemented in the OR and related departments. It is hard to overstate how significant their impact has been. Here is a sample of just a few of these tools:

OR - New Pre-Op briefing and hand-off procedures have been developed, timeouts have been revised, a debriefing process is being implemented, and PACU hand-offs and OR holds have been
re-engineered to great affect; 7 forms have been consolidated into 3 with a new tri-fold patient record.
Cath Lab/EP/IR - implemented a daily "Huddle"; debriefings are being used; and up-line processes such as transport issues are being addressed.
Endo - redesigned one of the ORs for improved patient safety; revamped and redesigned the entire inventory/stocking process.
Eye Center – the need to "unchart" EMR before entry of patient data has been reworked with the assistance of IT. This was a drastically needed improvement.
In August of 2013, 5 highly qualified volunteers from EMMC spent a week in Memphis, Tennessee at LifeWings headquarters immersing themselves in the Train-The-Trainer (T3) program. Just a month later, these T3's began conducting TSW classes for ICU/CCU staff. To date, the T3's have conducted 16 classes and completed training for all ICU/CCU personnel.
Jen Modery, a Cath Lab Technologist, T3 and leader of the newly formed ToolOwner's Liaison Support (TLC) group, said this in a message to the PACU HST participants and leadership present for the HST Out briefing: "… I am a firm believer in the process, and have seen proof in the great things we have already been able to accomplish. I know that this new round of "tools" can have some real positive impact as well. The" LifeWings spark" at EMMC is turning into flames and I am so proud to say that I am part of it."
The Joint Commission (TJC) conducted a no-notice visit to EMMC during the first few days of November 2013, and gave excellent marks to the hospital while singling out their OR timeout process for special praise. CEO Debbie Johnson recognized the work of LifeWings at EMMC with her follow-up remarks to staff. She said in part: "I'd like to thank the many well-informed, highly competent staff members, physicians and leaders who took the time this week to speak with the surveyors from the Joint Commission. The surveyors found a lot to be very impressed about, starting with the engagement and teamwork our staff exhibited. They said staff members they spoke with were confident and knowledgeable and comfortable in their conversations. They were very impressed with our safety measures, including the excellent time out process in our OR's, for example. This process has been revamped and reinvigorated by the staff in this area, with the leadership of Hardwired Safety Tool Teams trained by LifeWings." EMMC will be continuing their commitment to patient safety excellence when the Emergency Department (ED) begins LifeWings training in February of 2014.
For more information about LifeWings visit http://www.saferpatients.com.