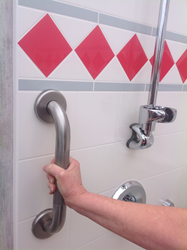 We are speaking out with a list of 10 things people can do during the month of June, which is National Safety Month.
Santa Rosa, CA (PRWEB) June 27, 2015
Some Americans tend to worry about the things one sees the most in the news, like plane crashes, severe weather or shark attacks; however, statistics show that some of the things people do can pose the biggest threats to their safety, and thanks to June's National Safety Month and the ten tips being offered by Lift and Accessibility Solutions, there is more information available for people to live safer lives.
"We are speaking out with a list of 10 things people can do during the month of June, which is National Safety Month," said Rhonda Harlin, owner and spokesperson for Lift and Accessibility Solutions. "De-clutter your home as much as possible. Throughout the years, most of us collect quite a few belongings that fill up our homes and apartments. Excess items and furniture create hazardous situations, with more risk of tripping, knocking things over, and more. Removing these extra things will help create a safer space to live. And, as an added bonus, many people report a satisfying feeling of new peace and cleansing."
Next, secure loose rugs to the floor with double-sided or slip-resistant backing, and or remove loose rugs from their home altogether. Harlin went on to point out that people can also make sure that power and phone cords are tucked away; repair loose floorboards or carpeting right away; use non-slip floor-mats in a bath or shower, and always dry the bathroom floor after bathing.
In addition, immediately clean up spilled liquids, grease or food; wear sensible shoes that fit well and have nonskid soles, and make sure individual's house slippers and cozy socks have rubber grips.
Harlin stressed that keeping a well-lit home is number eight in the list of ten items people can do to ensure their safety. "Place a nightlight in your bedroom, bathroom and hallways," Harlin said, before adding, "Have a lamp by your bedside that you can easily reach in the middle of the night, and keep a flashlight nearby in case of a power outage."
In addition, during the wet months, Harlin suggested that individuals keep a canister (a clean trash can works well) in their entryway for wet umbrellas, which will prevent the rainwater from dripping off, and creating a puddle on the floor.
As for the tenth thing people can do to improve safety during National Safety Month, is contact Lift & Accessibility Solutions about installing grab bars and making other home modifications that will keep them and their loved ones up on their feet.
About Lift and Accessibility Solutions
Lift and Accessibility Solutions started out in 2003 under the name Jonathan's Son Inc. The name was changed in 2012 to better reflect the work and services they provide. They offer a wide variety of products and services for those wishing to "age in place" or businesses needing to meet their ADA access requirements. For more information or for a consultation please visit liftandaccessibilitysolutions.com or call 707-538-3210. They are located at 2615 Alton Lane, Santa Rosa, CA 95403.
About NALA™
The NALA is a full-service marketing agency providing custom personalized service for small and medium-sized businesses throughout the United States. For more information, please visit:http://thenala.com
Media Contact:
the NALA
news(at)thenala(dot)com
805.650.6121, ext. 361