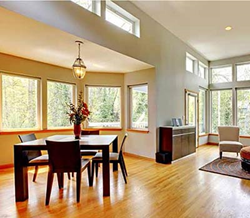 "Natural light also can help cut energy bills, and use the natural warmth of the sun to help heat the home during cooler weather. It's possible to create large expanses of glass with virtually no loss in energy efficiency." Marvin Windows
Minneapolis, Twin Cities, Minnesota (PRWEB) April 24, 2014
Twin Cities homeowners have survived long winter months and are savoring brighter days with temperatures ideal for home remodeling projects. CBS Money Watch says windows are big in their announcement of home trends for 2014, and NAHB offers tips on home care after a severe winter. With little urging, homeowners in the Twin Cities are embracing brighter days by contracting remodelers for a newer, cleaner, and more updated look for a light-filed home.
"Home buyers in the Twin Cites love a home with open spaces that permit bright sunlight to flow better," says Jenna Thuening, owner of Home Destination. "Buyers love windows and skylights that bring light into the home during the day and yet meet their desire to have an energy efficient home. If you are remodeling, prioritize desired home features such as daylighting, solar heating, shading, ventilation, and aesthetic value."
One misconception is that a home featuring grand windows is better suited to southern states that have more sunlight. Another misconception is that a sunlight filled home is only for Twin Cities luxury home owners. "We have a good amount of sun in Minnesota compared to other markets," Excelsior-based Charlie Pickard, co-owner of Aladdin Solar, LLC told CBS Minnesota. "Germany has ten times the number of installed systems, but we have 30 percent better sun than them. We are similar to some areas of Texas and Florida."
Home Destination has compiled a brief list of comments by home remodeling professionals about the trend toward open light-filled homes.

Monterey Home and Garden's January article on Tub-less, light-filled bathrooms in vogue says, "bring in the light — lots of it!"
Marvin Windows & Doors says, "One of the biggest trends in home design over the past decade is light".
Canadian House & Home says buyers want free-flowing space and airy light-filled homes.
Tiefenthaler says, "Solar panels and other sources of solar power will become a new construction standard rather than an upgrade. In addition, solar technology has advanced to the point that it is useful and efficient even in areas that don't have predominantly sunny days".
Midwest Home Magazine says, "The biggest bath trends include natural colors, light-filled spaces, and simple textures and finishes".
Artful Living Magazine says about a Lake Minnetonka Home, "Whether it is contemporary, traditional, or European or prairie style, it is about creating... lighting and excellent design".
Peterson / Keller Architecture announces they have "transformed a dark, gloomy house into a crisp and comfortable light-filled oasis".
For more details on the comments see the article Buyers Want Open Light-Filled Homes & Energy Efficiency.
Recipients of the Day Light Project is the UK said, "The natural light really has had an impact on daily life. We wake refreshed each morning, wanting to get out earlier and be more active and it also makes working from home more enjoyable", according to the article titled F lood your home with natural light and beat the winter blues.
The Twin Cities Parade of Homes is offering a new event this year to meet high consumer interest in gracious well-appointed homes. Called the Artisan Home Tour, happening June 7 - 15, it will offer homeowners a first-hand opportunity to see new open space, light-filled home designs.
Before beginning a home remodeling project, consider hiring an interior designer to help you craft a home design that ensures a smarter, more practical use of space and light. "Focus on where you spend the most time. Lighting is able to drastically change the way your home looks and your mood. It can make a room feel more comfortable or become more functional to different tasks," advises Thuening.
Home Destination offers an extensive library of home buyer resources and is a Twin Cities residential real estate consultant serving the metro over 15 years. Dedicated to giving investors the best opportunity to make solid real estate decision, call 612-396-7832 and ask for Jenna Thuening.