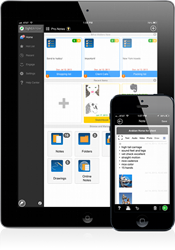 Building on our proven productivity solutions, these dedicated apps are unique in the App Store in several ways. - Adi Mishra, CEO
Austin, Texas (PRWEB) July 25, 2013
LightArrow, Inc., creators of the popular Life­Topix™ app for iOS, announced today the release of its newest note-taking apps, Pro.Notes™ and My.Notes™. LightArrow's new note-taking apps establish a new paradigm for note management -- combining powerful note organization, checklists and to-do lists, drawings, handwriting, text, audio, videos, and photos -- all in one place.
LightArrow has expanded their portfolio of apps with Pro.Notes for business users who desire a powerful app with native support for organizing, managing and taking notes as well as the ability to manage online files and notes from their best-in-class software. Pro.Notes includes out-of-the box features for managing online files from Dropbox™, Google Drive™, and SkyDrive™; syncing online notes from Evernote® and Toodledo®; and syncing via cloud services from device to device.
My.Notes, intended for personal use, includes powerful note-taking, drawing and note organization features and will include in-app purchases for syncing, sharing, and accessing online notes and files in the next update.
Pro.Notes and My.Notes include powerful note organization and retrieval -- allowing users to categorize, tag, and associate dates with notes. Both apps provide the ability to record and add audio and video, add pho­tos, and hand write or draw with a fin­ger or sty­lus. Draw­ing tools include 24 beau­ti­ful col­ors with alpha options; linewidth choices; eraser; clear; undo; print; and email capa­bil­i­ties for draw­ings. Print­ing is also avail­able for notes and drawings. Users also can share their drawings via Facebook and Twitter directly from the drawing view.
"Next to content consumption, capturing and organizing notes dominates the use of iPads, and having on-the-go access to those notes using the iPhone is a necessity," said Adi Mishra, CEO at LightAr­row. "Building on our proven productivity solutions, these dedicated apps are unique in the App Store in several ways. Our apps let users sync information from multiple online sources, capture notes, drawings, and media locally on the device, and seamlessly share and collaborate with others."
LightArrow is recognized for their unprecedented support and for providing apps with extensive customization options, completeness, and ease of use. Pro.Notes and My.Notes are no exception with their complete, beneficial features, including:

One glance ability to see notes that are important now and that were recently updated
Note views by category, notebook, context tag, date tag, and last updated
Checklists and to-do lists
Extensive drawing and writing tools
Search
Color themes
Backup and full online restore capabilities
Passcode lock allowing privacy
Hot list for favorites
Association of checklists/to-do and files with notes
Evernote and Toodledo note sync
Printing
Access to online files from Google Drive, Dropbox, and SkyDrive
Device-to-device sharing via email (standard with Pro.Notes)
Device-to-device cloud sync via Dropbox, Google Drive, SkyDrive, or iCloud (standard with Pro.Notes)
Pricing and Availability
Pro.Notes and My.Notes are avail­able imme­di­ately from the Apple App Store. For new users, Pro.Notes is avail­able for US $2.99 and My.Notes is available for US 99 cents. As uni­ver­sal apps, a sin­gle pur­chase enti­tles buyers to use the apps on their iPhone, iPad, and iPod touch. The ability to add online file and note management and device-to-device sync will be available in the My.Notes app via in-app purchases in the next update of My.Notes, which is scheduled in early August 2013.
About LightArrow
Headquartered in Austin, Texas, LightAr­row, Inc. (http://www.lightarrow.com) was founded in 2010 by a team of visionaries and repeat entrepreneurs who have dedicated their professional careers to the challenge of leveraging state-of-the-art information technology to solve problems that matter to people. Their mission is to build intelligent, world-class software products that dramatically improve their customers' everyday lives. The company has extensive experience delivering quality solutions to some of the most sophisticated customers in the world and are very proud of their successful track record.
Copyright © 2013 LightArrow, Inc. All Rights Reserved. Apple, the Apple logo, iPhone, iPod and iPad are registered trademarks of Apple Inc. in the U.S. and/or other countries. SkyDrive is a registered trademark of Microsoft Corporation. Dropbox is a registered trademark of Dropbox, Inc. Google Drive is a registered trademark of Google, Inc. Evernote is a registered trademark of the Evernote Corporation. Toodledo is a registered trademark of Toodledo. All other trademarks are the property of their respective owners.