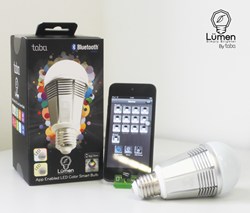 Intelligently designed, uncompromisingly engineered and endlessly versatile, the Lumen Bluetooth Smart Bulb is ready to make some real changes in your home.
Hong Kong (PRWEB) August 05, 2013
Tabü Products, a relatively young company that has so far been dishing out thoughtful little mobile accessories like conveyor belt sushi, is now launching the latest creation, the Lumen Smart Bulb, available on Tabü Product's official website and major retailers.
Lumen Smart Bulb using the latest Bluetooth 4.0 technology delivers the most functional and flexible lighting solution currently available on the market. The Lumen combines the practical utility of a standard white bulb, the ambient versatility of multi-colored lights, as well as the longevity and energy savings of an LED bulb, all of these within, a single, simple to install package. But it gets better. Everything is remotely controlled using a downloadable proprietary application available for Apple iOS devices (Android Version coming soon). Users will never feel compelled to stand up just to control the lighting again! Lumen is smart lighting for the future, inexpensively available today.
Lumen promises to change the way people experience space with its unique features:
Party Mode transforms a living room into a dance floor with flashing lights that change color to suit the music. Select between two settings to match the rhythm of the music. Youngsters at heart will love this!
Romantic Mode uses a blend of warm colors to create the perfect conditions for a romantic date or a cozy evening at home.
Relaxation Mode simulates tranquil moonlight, gradually transitioning between calming blue and peaceful purple - scientifically proven to improve sleep and enhance rest.
Wake-up Mode mimics sunrise and encourages the most natural way to wake up. In this mode, the Lumen Smart bulb starts dim and gradually gets brighter, reaching its brightest at the stipulated wake up time.
According to the product development director, Kevin So, "One of the advantages of the Lumen Smart Bulb is that the Lumen App is upgradable. The next version of the app is scheduled to release in September 2013 will add even more cool features to the Lumen Smart Bulb like Proximity Mode, Calls Alert Mode and Music Rhythm Sync."
Encased in a sleek octagonal anodized aluminum shell, the Lumen Smart Bulb is no bigger than the standard traditional bulb, so installation is a breeze. The Lumen Smart Bulb works with existing standard E27/E26 bulb sockets. Simply replace and enjoy, no complex rewiring required.
Yet, despite the Lumen Smart Bulb's conventional size, it is unbelievable just how much technology Tabü has managed to cram into it. The Lumen is RGBW, LED, Bluetooth 4.0 ready and even dimmable!
Lumen Smart Bulb shines in absolutely any color from the full color spectrum with a simple slide of the finger on a mobile device.
The Lumen Smart Bulb contains a 7 Watt LED element that generates the same amount of warm white light as a traditional 40W light bulb. Lumen is not just cheaper to run brightly, it also runs longer thanks to LED technology. The Lumen Smart Bulb is rated to 30,000 hours, or 10 years; say goodbye to frequent bulb changes.
In conjunction with the bluetooth 4.0 modules built directly into every bulb, the easy-to-use App allows users to control a single Lumen Smart Bulb, a group of them, or all the Lumen Smart Bulbs within a 30ft range. Competing products rely on wifi technology that is troublesome, requiring a router and complicated configuration. In contrast, the Lumen is smart but not complicated.
For more information about Lumen Smart Bulb, follow us at http://www.lumenbulb.net/ or "Like" Lumen's Facebook page at http://www.facebook.com/Lumenbulb.
About TABU:
TABU Products is known for high quality accessories, designed to bring color and joy to the lives of the company's customers. TABU believes an accessory should be more than a "second thought" – it should reflect the individual's personality through innovative design, unique colors and creative shapes. http://www.TABUProducts.com/.
Media Contact:
Karen Liang
Marketing Manager
TABU Products +852 9859 5617
Karen.Liang(at)avconcept(dot)com