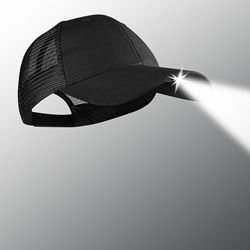 "Overall, the number one reason for regret is that the product did not work as advertised, followed by cheaply constructed, and limited use," said Amit Bhatnagar, an Associate Professor of Marketing at the University of Wisconsin-Milwaukee, who performed an analysis of the survey results.
WEST DUNDEE, Ill. (PRWEB) June 10, 2019
As much of the country begins to warm up, and campers and outdoor enthusiasts alike begin fantasizing about their first excursion of the season, they should be aware of a new survey showing that 25 percent of self-described outdoor enthusiasts admit to regretting at least half of the outdoor gear purchases they've made within the last 12 months.
To combat this rampant buyer's remorse, Panther Vision®, creators of innovative LED lighting equipment, commissioned a nationwide survey to better understand this problem as the company designs and launches its new lighted hat, the POWERCAP 2.0, which puts out four times more light than the original POWERCAP®.
The ​Outdoor Industry Association estimates that every year, the outdoor recreation economy generates $887 billion in consumer spending; $184.5 billion of that spending is strictly on gear. Based on survey results, if a quarter of those product purchases ended in regret at least half the time, the result is an astonishing $23 billion spent annually on outdoor gear the consumer later regrets buying.
"Overall, the number one reason for regret is that the product did not work as advertised, followed by cheaply constructed, and limited use," said Amit Bhatnagar, an Associate Professor of Marketing at the University of Wisconsin-Milwaukee, who performed an analysis of the survey results.
"In our shop, we refer to those regretful purchases as PUIs - Purchasing Under the Influence, which is more commonly known as impulse buying," said Chas Waters, Panther Vision's Director of Sales and Marketing. "We're all guilty of it, and as outdoorsmen ourselves who've felt irritated by products that fail to meet our expectations time and time again, our team wanted to know just how common this feeling was among others who embrace the outdoor lifestyle."
Panther Vision's research has validated its approach to product design and the reasoning behind its LED light innovations in the first place. With this understanding in mind, their development team went back to the drawing board and redesigned the lighting elements of their POWERCAP 2.0, which is scheduled to launch this June. The result is a headlamp in a hat that puts out 75 lumens and uses AAA batteries in a pocket that fits neatly into the hat's lining, offering a design that seamlessly combines comfort, style, and function.
"From these kinds of insights we're able to launch a better product tha​t ​not only draws on the practical innovations that have made our products successful, but are also at the core of Panther Vision's design strategy," said Mike Waters, Panther Vision's Founder and Chief Inventor. "At the end of the day, we want to ensure our products never let anyone down, no matter what they're doing or where they're doing it."
It's this approach that has led to Panther Vision's rapid expansion at retailers with products that include:

The ​FLATEYE​® launched the Unround Revolution by finally bringing to the market an LED flashlight designed for the human grip with a pistol-style, polymer grip that is easier to hold and won't roll away. The side-by-side quad battery configuration transfers more juice to the LEDs, leading to a longer battery life.
Button Lamps​® are tiny-but-mighty adhesive LEDs lights. Each individual light is about the size of a quarter but puts out 13 lumens of light and can last as long as 17 consecutive hours. A pack of six Button Lamps costs just $9.99.
The original ​POWERCAP combines quality lighting with functional apparel. You'll no longer need to wear a headlamp that leaves you looking like you're wearing a jockstrap with a light attached to your head. With an array of different styles and colors, there's a POWERCAP to match both your need and preferred look.
Because Panther Vision believes it will benefit from an outdoor consumer base that is more knowledgeable and thoughtful in its purchasing, the company also consulted with Dr. Lars Perner, an Assistant Professor of Clinical Marketing at the University of Southern California, to better understand ways consumers can save themselves from these regrettable purchases. Perner shared these five tips for outdoor enthusiasts to consider before purchasing a recreational product:
Perception Is Not Reality - ​Product makers ​lure you in with catchy marketing or "sweet deals", so you have to focus on buying items you know you have a use for as opposed to just taking advantage of a perceived "deal."
Deliberate Decision Making - Don't get sucked into the hype or your impulse to buy! Sometimes "sleeping" on a decision, especially if it's an expensive one; will help you avoid purchases that you will regret later.
In It For The Long Run - ​If you determine you "have to have it," buyers should take a second to consider not just the initial cost of the item, but also the cost of maintenance and operations over time. In the case of lighting, some types need much more maintenance and additional costs to keep them running such as batteries.
Spouse Approved Spending - Listen, if you can't easily explain to your spouse why you need the item and the costs associated with it, then maybe you should reconsider. A good rule of thumb before you throw it on your credit card and get hit with high interest rates is if you cannot pay cash, it may be better to wait until you can do so.
Healing The Camping Blues ​- As the seasons begin to change it's hard not to start daydreaming about getting outdoors. Going online to browse around and get your "outdoor gear fix" is exactly when outdoor enthusiasts are most vulnerable. Take a breath, take inventory of what you already own, and make sure you are buying items you actually need, when you need them.
"If outdoor enthusiasts keep these simple tips in mind, we're confident it will save them from unwanted purchase regrets as well as lead them to understanding Panther Vision's commitment to quality, functional design, and our obsession with creating innovative lighting solutions," said Chas Waters. ​"We want to ensure that anyone who buys the POWERCAP 2.0, or any of our other products, never feels even a hint of PUI symptoms."
About Panther Vision
Panther Vision is an Illinois-based company that designs, manufactures and distributes advanced engineered ​LED lighting solutions. Our more than 25 patented designs offer consumers unparalleled performance and provide them with uncommon solutions to common everyday problems. Panther Vision products are sold all over the world, but can be found in the U.S. at Lowes, Best Buy, Dick's Sporting Goods, Gander Outdoors, Fred Meyer, AutoZone, LL Bean, Bass Pro, Cabelas, Academy Sports + Outdoors, Amazon and Big 5 Sporting Goods stores. https://www.panthervision.com