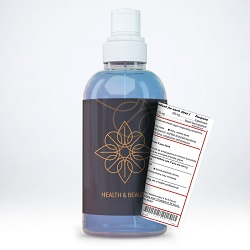 Custom labels with extended content are another way for companies to deliver information in efficient, eye-catching ways
DENVER (PRWEB) March 20, 2019
Lightning Labels lets companies cover their products in labels that represent their brands' unique and compelling imagery while fulfilling regulatory needs. Specialized label types such as the new extended content labels allow companies to meet their packaging goals - even when their industries and products come with unique needs.
Extended content labels (ECLs) provide extra surfaces to work with, wrapping around a product or tearing away. That extended space has multiple uses, and the ideal format will likely depend upon the industry in question. Some brands will use the extra surface for warnings, usage directions, recipes, ingredient lists or other text designed to comply with regulations. Others will opt to translate this information into multiple languages. Still others opt to create ECLs that tear away at the cash register, giving consumers access to instant savings on coupons.
Main Types of ECLs
Wrap-around Style Labels are the most frequently used extended content custom labels. These labels wrap around a bottle or other container multiple times, with a light-tack adhesive which allows viewers to reveal the covered content and then cover it again.
Coupon Labels involve peel-off elements that may turn into valuable coupons, using immediate or long-term deals to encourage buyers to shop.
Hinge Labels are similar in structure to coupon labels, but meant to open and shut rather than tearing off. The top layer peels back to reveal the bottom layer, and like the wrap-around style, can be reapplied many times over.
New Label Options
Due to the wide variety of custom labeling use cases, Lightning Labels is excited to diversify its offerings.
"Custom labels with extended content are another way for companies to deliver information in efficient, eye-catching ways," said Lightning Labels' Director of Sales and Client Services Gary Paulin. "Clients old and new should find this new offering supports their branding goals."
For decades, Lightning Labels has offered innovative label options across industries of all kinds.
About Lightning Labels:
Lightning Labels uses state-of-the-art printing technology to provide affordable, full-color custom labels and custom stickers of all shapes and sizes. From small orders for individuals to the bulk needs of big businesses, Lightning Labels is equipped to handle and fulfill custom label and sticker projects of all types. Best of all, like the name implies, Lightning Labels provides a quick turnaround for every customer's labeling needs. Uses for Lightning Labels' custom product labels and custom stickers include food packaging and organic food labels, wine and beverage labels, bath and body labels, and nutraceutical products, such as vitamins, essentials oils, and herbal remedies, as well as event stickers, adhesive window stickers and more. Lightning Labels strongly supports the development of environmentally friendly printing materials and carries Biostone, a green label material made from stone paper is water resistant and inherently strong and durable. While operating as a high-tech printer, Lightning Labels prides itself on its personalized customer service. Lightning Labels provides one stop shopping for all of your custom label needs. For more information and to place orders online, visit LightningLabels.com. For the latest in packaging news and labeling promotional offers, find Lightning Labels on Twitter (@LightningLabels), Facebook, Pinterest, Google+ and LinkedIn.