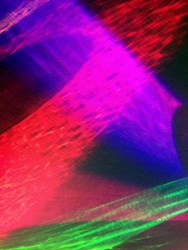 Fond du Lac, Wisconsin (PRWEB) February 05, 2014
Artist, professor, and former science teacher, Anthony Dallmann-Jones, today announced the development of a new art form – light ray photography. Harnessing the beauty of the colors produced by his signature Light Sculptures, Dallmann-Jones uses photography to capture the resulting imagery.
"I was working in my studio on a Light Sculpture – laid out on my work table in the dark – and suddenly it dawned on me," says Dallmann-Jones of the circumstances surrounding his discovery. "Just tiny background segments of the Light Sculptures produced naturally beautiful variations of color that needed no alteration whatsoever. They make for gorgeous photography in and of themselves."
The artist became hooked, and temporarily abandoned his 20-foot-long light sculptures to spend days experimenting with new arrangements. He begins the process by setting up specially-constructed dichroic glass (originally designed by NASA for spacecraft windows), lead crystals, and other light-splitting materials. Using a tiny LED spotlight he creates brilliant rays of light in a spectrum of colors on a white background, and is able to control them by tweaking the angling and spacing of the glass pieces. He then takes up to a hundred digital close-up pictures between 3x5 and 4x6 inches in area, all in an effort to capture one or two perfect brilliant photographs.
"It's like gem hunting," Dallmann-Jones points out, "because another thing that makes this work so remarkable is that I never alter the coloring in the digital photographs. What the viewer is seeing is exactly what I saw through my Canon Rebel lens."
Once his photos are selected, Dallmann-Jones enlarges them up to 30x40 inches. Through the use of clever cropping, the artist creates a unique kaleidoscope of colors captured in an innovative way. He uses a service that professionally frames the light ray photographs, or has them developed on canvas and then stretched. Recently, he has also had the images embedded in crystal-clear acrylic glass that furnishes an ultra-modern appearance with smooth, beveled edges that require no frame. In addition, the artist has been experimenting with printing onto metal surfaces to produce a shellac-like metallic sheen.
"The significance of this has yet to set in, but this just might become my major medium," says Dallmann-Jones. "It was an accident, but when I look back I realize that many of my most successful art ventures began with an accident; a fumbling into the end zone that I never counted on, planned for, or saw coming. It was suddenly just there, the elusive football. I fell on it – touchdown!"
About Anthony Dallmann-Jones
Anthony Dallmann-Jones is a visionary artist, educator, and former science teacher whose deep interest in the abstract gave way to the creation of his signature Light Sculptures – a project that has evolved into a ten-year labor of love. More information on the artist and a gallery of his work is viewable at http://www.SculptedLights.com.