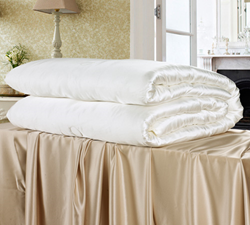 Customers will love our silk products as soon as they touch them.
Dallas, TX (PRWEB) June 17, 2014
Many people know that silk comforters are expensive, but few of them know these silk comforters are organic and hypoallergenic. Lilysilk, which has been a distinguished silk manufacturer and retailer for years, has recently introduced its silk comforters to customers worldwide.
Silk fabrics get luxurious softness and lustrous beauty, which have rightly earned silk its reputation as the queen of fabrics. Bedding wares made of pure mulberry silk are becoming popular among housewives without any doubts. Lilysilk is proud to introduce its lightweight silk comforters to customers. Their comforters are only crafted from 100% pure mulberry silk floss in China.
Customer Sandra said with excitement, "I love my new SEAMLESS silk duvet. It feels lovely to sleep in and finally I can wake up in the morning and feel like a princess! A lovely product that feels like a little luxury in my bedroom."
Mike Lee, the CEO of Lilysilk, is a reliable and responsible gentleman. He even said, "Customers will love our silk products as soon as they touch them. I am confident in the quality and craftmanship of these silk duvet covers, silk flat sheets, silk fitted sheets, and silk pillowcases. I know that many people do not want to feel heavy at night in summer, but they need a piece of comforters in the air-conditioned room."
Silk duvets are also ideal for women who suffer from "hot flushes" caused by menopause. "Women customers who want to protect silk and hair could visit our online-store, and find the wonderful silk sheets and silk pillowcases for yourself," Mike Lee said.
About Lilysilk
Lilysilk is a leading silk manufacturer and retailer of bedding wares and nightwear. Excellent customer service, high quality silk fabrics, affordable prices, and free delivery, are reasons to choose Lilysilk Bedding Store.
For more information, please visit: http://www.lilysilk.com.