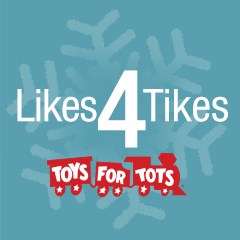 Solon, Ohio (PRWEB) November 29, 2013
Marketing and technology firm World Synergy® has launched its 3rd annual holiday campaign to raise money to support the Toys for Tots organization. The company kicked off their Likes4Tikes donation drive this week, with the goal of receiving 1,500 Likes (approximately 75 toys) to their fundraising Facebook page, http://www.facebook.com/Likes4Tikes
Last year's campaign resulted in enough likes for the company to donate almost 60 toys to needy children in the Cleveland area. This year, the company has decided to donate one dollar for every Like to their campaign page, making it easier to tie successful Likes to a direct dollar amount. "We are humbled to participate in a very small way to help families in our community," notes World Synergy CEO Glenn Smith. "By leveraging the power of social media for a greater good, we can bring some joy to kids in our area that are truly less fortunate and we're happy to help," he continued.
Begun in 1947, the Toys for Tots organization was founded on the goal to deliver, through a new toy at Christmas, a message of hope to less fortunate youngsters that will assist them in becoming responsible, productive and patriotic citizens. Since its inception, Toys for Tots has donated over 469 million toys to over 216 million less fortunate children.
Likes4Tikes supports the Toys for Tots organization and all monies raised by "Liking" their campaign page will be donated to buy toys for needy kids. Toy distribution will take place mid to late December.
About World Synergy
World Synergy is a leading strategic business services firm in Cleveland, Ohio. For over 25 years, we have shaped integrated online marketing and technology strategies to increase our clients' sales and improve their ROI. Our Marketing division provides a full suite of traditional and digital marketing and advertising services. Our Technology division provides total network managed services, development and computing infrastructure architecture expertise. Join us at http://www.WorldSynergy.com