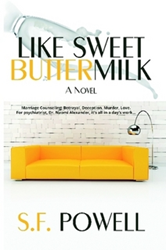 "Like Sweet Buttermilk" won first place in the Black Expressions' Fiction Writing Contest.
Washington, DC (PRWEB) June 08, 2016
Family therapist Dr. Naomi Alexander has a no-nonsense approach to everything – except her personal life. Still in mourning for her murdered husband, she shares a shameful secret with her 20-year-old daughter. And for the first time in a long time, she has an intriguing case.
Author S. F. Powell describes her debut, "Like Sweet Buttermilk: a Novel" (published by Lulu), as mainstream fiction centering on the sleuth-type skills of Naomi and her approach to treating a married couple in which the husband has killed someone – unbeknownst to the wife. The dynamics of the married couple's relationship provide a bit of suspenseful romance. "Like Sweet Buttermilk" won first place in the Black Expressions' Fiction Writing Contest.
The novel comes at a time where many see a growing need for psychiatric counseling. Although Powell says she didn't experience anything quite like the events explored in the book, she researched the topic to delve deeper into the psyche and provide the reader with a believable cast of characters.
"Like Sweet Buttermilk"
By S. F. Powell
Hardcover | 6 x 9 in | 314 pages | ISBN 9781483431826
Softcover | 6 x 9 in | 314 pages | ISBN 9781483431802
E-Book | 314 pages | ISBN 9781483431819
Available at Amazon and Barnes & Noble
About the Author
S.F. Powell grew up in the Washington, D.C., metropolitan area, where she lives with her husband and their children. Powell is also the author of "Obscure Boundaries," another Dr. Naomi Alexander novel. She is currently working on a third. More information is available at http://www.sfpowellbooks.com.
Lulu empowers people of all ages to explore and express their interests, passions and expertise through books, photography and art. Since introducing self-publishing in 2002, Lulu has empowered creators in more than 225 countries and territories to produce nearly two million publications. Lulu Jr. allows children to become published authors, encouraging creativity, strengthening literacy and building self-esteem. Picture.com offers professional photography of collegiate and professional
sports, memorable and historic events, fine art and home décor. For more information, please visit ulu.com.