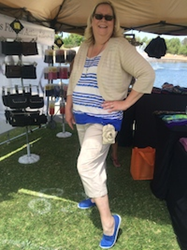 Now there's a new way to wear Lil Flower Cellphone Purse - simply thread the wristlet strap thru a couple of belt loops and tada! You've got a nifty little head-turning hip bag.
Concord, NH (PRWEB) June 26, 2014
Nifty-Nifty.com, a global leader in trend-setting fashion accessories, has been hard at work developing new ways for consumers to enjoy all their hands-free gadgets, the latest being a cool new way to wear the already multi-functional Lil Flower Cellphone Purse.
"Lil Flower Cellphone Purse has always been versatile, affording consumers the option of wearing it as a cross body bag or wristlet, but now, we've added a third way to wear this compact stunner: as a hip bag," states Wendy Miller, co-creator of Nifty-Nifty.com products. She adds, "Simply thread the wristlet strap (included) through a couple of belt loops, and tada! You've got a nifty little head-turning hip bag."
Check out Nifty-Nifty's Lil Flower Cellphone Purse, here:
*http://www.nifty-nifty.com/lil-flower-cellphone-holder-best-cross-body-cell-phone-purse/
The remarkably girly Lil Flower Cellphone Purse, with its signature rose design, is one of the prettiest ways imaginable to tote one's cell phone, wallet, house keys, and other necessary items, securely and efficiently. With the snap compartment and secret slot, consumers will have a place for everything and everything in its place.
Available in a remarkable array of colors, including Fuchsia, Red, Purple, Ivory, Black and White, Black without White, Burned Orange, and Mustard, and constructed of sturdy leather-like material, the Lil Flower Cellphone Purse offers long-lasting loveliness for those on the go.
About Nifty-Nifty.com 
Nifty-Nifty.com caters to a diverse clientele from all over the world. As the world's leading online retailer of innovative, versatile products, Nifty-Nifty.com specializes in nifty products such as Biker Purses, Phubby, Specs-In-A-Sec magnetic eyeglass holders, Cell-Fies and Cross Body Cell Phone Purses, among others. All products are offered at highly competitive prices with zero charge shipping in the USA and Canada.
http://www.Nifty-Nifty.com
Tel. 858-248-2302