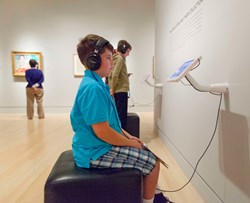 It's a solid product able to withstand thousands of visitors using it.
San Francisco (PRWEB) November 19, 2013
The creativity isn't only on the walls of the Indianapolis Museum of Art—visitors participate in exhibits with touch screen interactions using Lilitab tablet kiosks. Art lovers dive deep into collections and explore entire digital catalogs with the aid of iPad kiosks placed throughout the museum galleries. Comfortable seating stations invite visitors to relax and enjoy videos while learning more about the artists presented. Easy access evaluation stations at exhibit exits encourage real feedback with tremendous participation response. The museum's multi-media setup highlights exhibit experiences, favorite pieces of art, key educational points, and even requests for future pieces.
"The Lilitab design is very sleek and has great aesthetic value, especially for an art museum. It's perfect for delivering audio-visual content and accommodates many spaces well," Silvia Filippini-Fantoni, Ph.D, Manager of Evaluation and Technology-Based Engagement for the museum. "It's a solid product able to withstand thousands of visitors using it. It's affordable and even easy to clean."
Lilitabs are versatile, modular and simple to customize online using the kiosk configurator tool. The Indianapolis Museum of Art (IMA) uses Lilitab Surface units mounted to walls, with headphones for a personal experience, along with comfortable seating to explore the Matisse collection.
This is the second IMA installation utilizing Lilitabs. T3he "Ai Weiwei: According to What?" exhibit built feedback stations into the gallery using the Lilitab Surface with keyboard mount in order to capture visitor's experiences. Additional Lilitabs helped visitors gain a better understanding of the artist, and provided greater context for the works on display.
About the Indianapolis Museum of Art
Encompassing 152 acres of gardens and grounds, the Indianapolis Museum of Art is among the 10 oldest and 10 largest encyclopedic art museums in the United States and features significant collections of African, American, Asian, European, contemporary art, and design arts. The IMA offers visitors an expansive view of arts and culture through its collection of more than 54,000 works of art that span 5,000 years of history from across the world's continents. The collections include paintings, sculpture, furniture and design objects, prints, drawings and photographs, as well as textiles and costumes. For more information, call 317-923-1331 or visit http://www.imamuseum.org.
About Lilitab
Lilitab, based in San Francisco, California, is a group of designers, engineers and business people passionate about the use of tablet computers in public environments. With their compelling interface, compact form-factor and economical price-point, there are all kinds of new and unique uses for putting interactivity into the public space. Founded in 2011 by Adam Aronson, an award winning kiosk designer, Lilitab is committed to delivering the most secure, functional and stylish security enclosures for ANY tablet. For more information, visit http://www.lilitab.com or call 888 705 0190.
The Indianapolis Museum of Art uses Lilitab tablet kiosks in fun and creative ways to engage and entertain museum visitors.