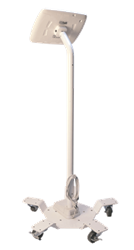 Tablet enclosures need to be accessible, reliable and convenient for rapid acceptance and efficient use in a healthcare setting.
San Francisco, CA (PRWEB) February 11, 2014
The Lilitab Floor iPad kiosk with Wheeled Base engages patients while improving treatment flow by healthcare providers, in a secure and stable portable tablet enclosure. Tablet use in healthcare is on the rise, whether for patient education and entertainment or for service provider information access. Tablet enclosures need to be accessible, reliable and convenient for rapid acceptance and efficient use in a healthcare setting. Lilitabs are easy to set up; no special tools are required and installation takes just a few minutes. The head unit, secured with a custom key preventing theft of the tablet, removes quickly for more personal hand-held interactions, or even tablet service or replacement.
The mobility of the Wheeled Base ensures that the kiosk is in the right place for the right use: as a temporary registration station during peak patient intake times, for temporary digital signage and wayfinding during construction, or as bedside patient entertainment. Apps for medical image viewing, procedure tutorials and patient feedback make the portable tablets invaluable education and communication tools.
The ultra-heavy duty Wheeled Base is constructed from ¼" laser cut steel with five wheels; its low center of gravity prevents tipping when rolled between locations. All wheels are non-marking rubber with brakes to keep the kiosk in place as needed. The Wheeled Base includes a housing to hide the tablet AC adapter and a cord wrap to prevent tangles when in motion.
Full ADA compliance assures the Lilitab Floor paired with the Wheeled Base provides convenient iPad access for wheelchair visitors.
Lilitab's MagDock lock efficiently snaps the head unit in place with a magnetic click confirming immediate tablet charging. The colorful MagKey triggers the sleep sensor, placing the iPad into sleep mode to conserve battery life; its removal wakes the iPad for business at the exact same point without the need for tablet access.
Lilitabs fully encase the tablets but leave the screens accessible for user interaction. Faceplate options help control application access, for example blocking the home button to prevent patients from exiting the app. Custom branding includes high visibility backdrops, quick-change seasonal banners, or hospital logo faceplates for each kiosk.
About Lilitab
Lilitab, based in San Francisco, California, is a group of designers, engineers and business people passionate about the use of tablet computers in public environments. With their compelling interface, compact form-factor and economical price-point, there are all kinds of new and unique uses for putting interactivity into the public space. Founded in 2011 by Adam Aronson, an award winning kiosk designer, Lilitab is committed to delivering the most secure, functional and stylish security enclosures for ANY tablet. For more information, visit http://www.lilitab.com or call 888 705 0190.
Lilitab's new Wheeled Base turns any Lilitab Floor iPad kiosk into a convenient and mobile self-service tool for the healthcare industry.